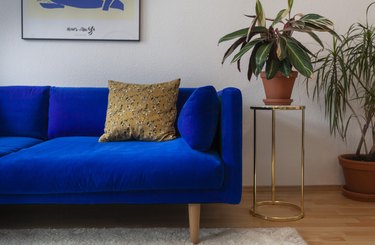 Every year, around this time, design nerds wait with bated breath as Pantone, the company behind the eponymous color matching system, unveils its color of the year. Past selections have included earthy reds (Marsala, 2015) and kicky greens (Greenery, 2017), so we couldn't wait to see what the company had up its palette for this year — especially as we enter a new decade.
Announced yesterday in New York, Pantone's official Color of the Year for 2020 is ... Classic Blue. While seemingly self-explanatory, this elegant, sapphire-tinged hue has a lot of complexity. "It's anything but classic," says Laurie Pressman, the vice president of the Pantone Color Institute. "But we do see this as a timeless and enduring blue hue."
Infused with a touch of red for vibrancy, Classic Blue is a color that Pressman predicts will be embraced far and wide. "It's because this color is seen everywhere that we're comfortable with it, we embrace it," she explains. "We see this color as emblematic of our desire for a dependable and stable foundation for which to build as we cross this threshold into a new era." The 2020 launch was also timely for the company, which introduced the Color of the Year initiative 20 years ago, in 1999.
Going one step further this year, Pantone has partnered with several brands to create sensory experience surrounding Classic Blue, including a suede-like fabric created by The Inside, an earthy candle scented of musk and sea salt, and an audio track, "Vivid Nostalgia."
So where does Pressman think we'll see the most of Classic Blue? Across the globe, basically. "This is a color that we can relate to around the world, no matter where we live."