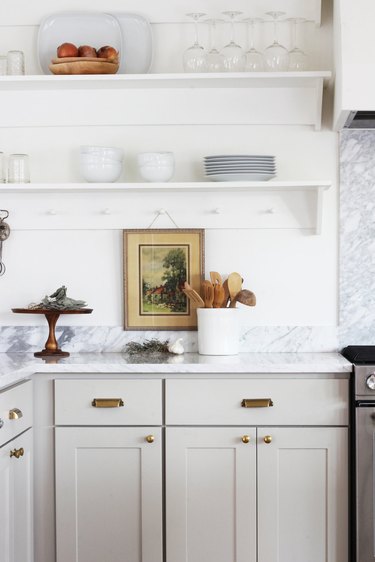 I think we can all agree that Joanna Gaines is the founding mother of farmhouse decor ideas. She has this uncanny ability to mix new pieces, like furniture and decorative elements, with the most incredible vintage treasures around. This results in a look that's one-of-a-kind, instead of something that looks as if it was picked out of a big-box store catalog. The aesthetic is rich in character and filled with patina.
If you're on the lookout for vintage farmhouse decorating ideas, today is your lucky day. Make a list of the best antique stores, thrift shops, and flea markets in your area. Pull on your flannel shirt and Hunter boots. And get ready to hunt down a few storied pieces to complete that oh-so-authentic look in your own country cottage. But before you run out the door, here are a few inspiring ideas to guide your search.
1. Give a beloved item the spotlight.
Let's say that you're cruising a flea market, and there it is — the Holy Grail — at least when it comes to your vintage quests. You've been looking for that card catalog/silver trophy/oil portrait for years, and there it is. After you snatch it up, give it the spotlight it deserves by allowing it to stand on its own without other pieces of decor detracting from it. For instance, in this living room crafted by Ashley of Cherished Bliss, a vintage basket above the mantel of this concrete fireplace steals the show.
2. Carry the vintage feel into furnishings and materials.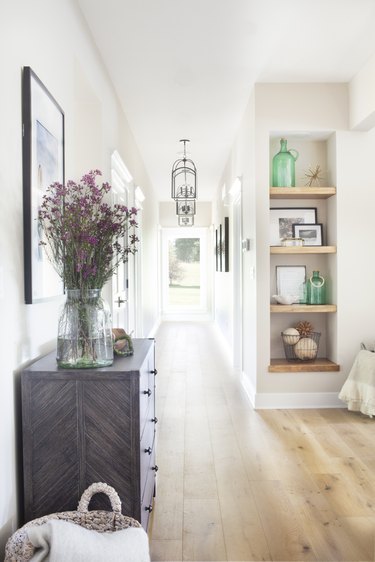 Even though you're striving to weave real-deal vintage farmhouse decorating ideas into your home, you may be working with brand-new interiors, and that's OK. New furniture and accessories can still capture that throwback feel through weathered woods, natural knots, and pieces that look well-loved — but are new purchases. That's the look Jesse and Sam of Scout & Nimble captured for this farmhouse renovation.
3. Turn to old-school colors.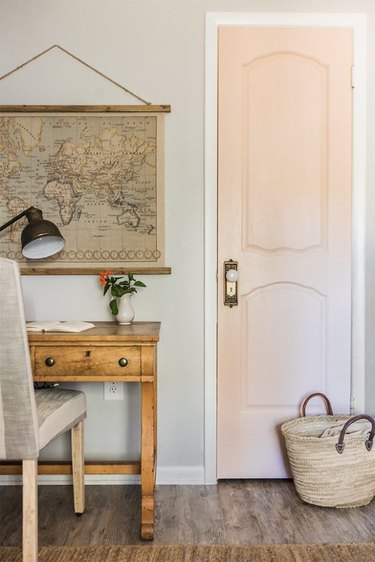 Another way to bring vintage flair to your farmhouse decor ideas is by including colors from a past era. For example, pink used to be a pretty common hue seen in homes, and today, it has made a comeback once again. Add a dash of that old-school color into your space by painting the door and pairing it with a vintage doorknob and other bygone accents, something that Jenna Sue of Jenna Sue Design Co. achieved in this master bedroom.
4. Bring modern and vintage together.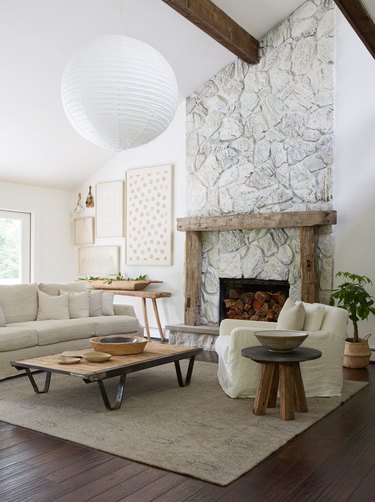 5. Create a collected look for your treasures.
You should think of your flea market finds as a collection of treasures that deserve to be part of your overall design, not stashed away in the basement collecting dust and cobwebs. Choose items within the same color family and create a gallery wall, an approach that Liz Marie of Liz Marie Blog turned to when setting up her flawless farmhouse entryway.
6. Curate the space carefully.