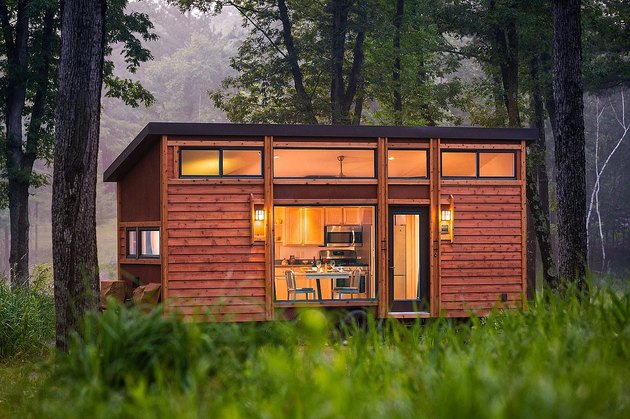 Somehow, 2019 has turned into the year of the tiny house that you can buy online. And now, one company wants to give you a tiny house for free.
Tiny house building company ESCAPE designs and constructs units that end up everywhere from Hawaii to New England to Seattle. It boasts 25 years in business, and delivers directly to customers. The company currently offers a partnership rental program in which you can apply to get a tiny house and use it as a short-term rental space (basically an Airbnb). The company gives you the tiny house for free, so long as you put down a deposit ranging from $1,000 to $2,000. Potential partners need to give info about their address and do a credit check. If that all goes smoothly, you can then set up the tiny house for wandering travelers and keep 40% of the revenue. You don't actually own the unit, though — the contract lasts a year with one-year renewals after that. Partners, however, can purchase the unit if they so desire.
But as we've explored before, you can't just set up a tiny house in your backyard and call it a day. Among the many details of the contract, ESCAPE specifically states that if you get approved for a free tiny house, you "must obtain and provide ESCAPE with any and all permits or approvals required by local or state authorities to utilize the Unit on Partner's site for short term rentals."
You can find out more information about the program here.
---
Eva Recinos is an associate editor at Hunker. You can reach her at eva@hunker.com

View Work