Some people hear "million-dollar home" and think of a giant mansion, fit for royalty — but for others, that's far from reality in pricey cities where $1 million might only get you a modest condo.
According to a recent market data study by Zillow, it turns out that it's all about location. The study looks at home prices across 100 U.S. cities and takes into account factors like the type of home — single family, condo, townhouse, for example — as well as location and distance from the city's metropolitan area.
In 88 of those 100 cities, a detached single-family home is the standard for a $1 million budget. In some cities, the average million-dollar home falls under 1,500 square feet in size. In others, that amount will buy more than 6,000 square feet — a true mansion for space-starved city-dwellers.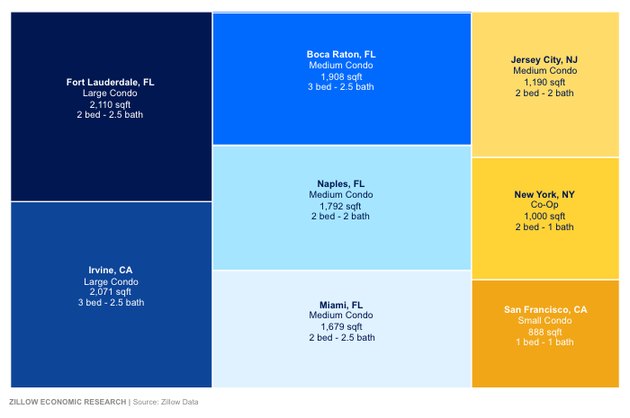 One way to get more for your money? Move out of the city. Suburbs of major cities — like Plano, a suburb of Dallas — will get you around 5,200 square feet for $1 million. The same price in Dallas, on the other hand, gets you around 3,900. Meanwhile, within the five boroughs of New York City, you'll find yourself with just 1,000 square feet. If you need more space, Islip, New York will yield around 4,300 square feet.
Click here to check out the full study, which includes interactive graphics for determining just how far your million will go, and where.
---
Laura is a New York City-based freelance writer who writes about travel, food, and design. Her work has appeared in Architectural Digest, Bon Appétit, GQ, Condé Nast Traveler, and more. She's a sucker for a good curbside furniture find.
View Work