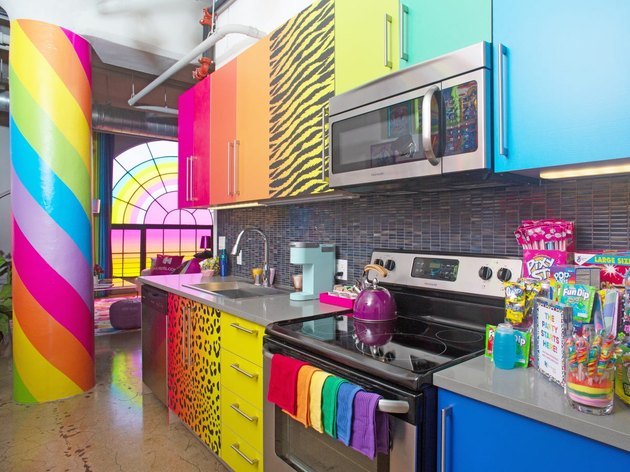 As it turns out, everything might not be rainbows and happiness with the Lisa Frank hotel room we wrote about last week. It's come to light that the suite, which is a special two-week pop-up by Hotels.com in an apartment building in Downtown L.A., is not the only technicolor residence in the area.
Los Angeles–based designer Amina Mucciolo lives in a rainbow wonderland she calls Cloudland — her loft was featured by Apartment Therapy in 2017 and dubbed "the most colorful apartment in the world" — and she points that it just so happens to look very similar to the Lisa Frank flat. While both units feature a similar color scheme with whimsical decor, the most jarring similarities are a color-block kitchen filled with toys and a rainbow-hued gallery wall.
Mucciolo lives in the building across the street from the one with Lisa Frank hotel room, and both have the same management company. Mucciolo claims her landlord has been trying to evict her since August.
"I believe I'm being evicted because of the Lisa Frank hotel. Our landlord refused payment & wanted us out before the launch," said Mucciolo on Twitter, sharing side-by-side images of Cloudland and the Lisa Frank room."The LF hotel is in our development. It is VERY similar to our home that I designed in 2017. I think they were trying to get rid of the competition ... me."
Neither Mucciolo nor building management responded to Hunker's request for comments by the time of publication. Hotels.com, however, offered the following statement to Hunker:
"The Hotels.com Lisa Frank Flat was inspired solely by Lisa Frank and designed as part of a partnership with Lisa Frank using her iconic signature prints and characters, many of which were originally developed in the '80s and '90s. The flat was created for a two-week pop-up in a space that is used only as a short-term rental and no tenant was asked to move or leave for this collaboration. We were unaware of the apartment you referenced and, after looking into some of the claims, can confirm that the Hotels.com Lisa Frank Flat is not located in the same building."
Jezebel reports that Mucciolo has had late payments in the past but that they've always been accommodated.
With photo sharing (read: Instagram) as popular as it is, it's no surprise that designers and artists could be easily influenced by another's work. It's often quite difficult to draw the line between inspiration and flat-out theft. According to House Beautiful, Mucciolo and her landlord will be going to trial at the end of this month, so perhaps we'll get some more answers soon.
---
Stefanie is a New York–based writer and editor. She has served on the editorial staffs of Architectural Digest, ARTnews, and Oyster.com, a TripAdvisor company, before setting out on her own as a freelancer. Her beats include architecture, design, art, travel, science, and history, and her words have appeared in Architectural Digest, Condé Nast Traveler, Popular Science, Mental Floss, Galerie, Jetsetter, and History.com, among others. In another life, she'd be a real estate broker since she loves searching for apartments and homes.
View Work