When we envision our homes in the future, it's inevitable to think about the technology that will accompany them. And that's just the thing: In the past, any time someone has taken a guess as to what homes 20, 50, 100 years down the line will look like, their conjectures are always, well, quote-unquote futuristic. Take, for example, Disneyland's now-defunct attraction, the Monsanto House of the Future, active from 1957-1967, which delighted visitors with a dwelling that felt, at the time, straight out of a sci-fi movie: refrigerators that pulled down from the ceilings, panels to control every room of the house, electric toothbrushes.
Or, another model that comes to mind is Back to the Future's vision of home life in 2015 (ha!), where every corner of a house is filled with some type of electric cooking device, TV, or fax machine.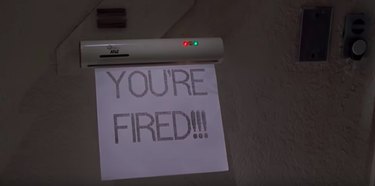 If there's anything these types of predictions (whether serious or not) has taught is, it's this: The future (when it arrives) never feels like the future. Back to the Future actually got a lot of things right about voice control, and Monsanto's ideas about modular units, space-saving, and climate control are all very real — except we don't feel like we're living in the space age.
Perhaps without even realizing it, with the rise of Alexa, Nest, Google Home, and all these other app- or voice-controlled devices we're bringing into our lives, our homes have become more technologically advanced than ever. But it seems we've been able to adjust our visions around the notions of what a "smart home" means — it's not an ultra-modern place completely controlled by buttons and screens.
In fact, product designers predict our homes will increasingly value items and integration that don't ostensibly add to the home, but rather integrate more seamlessly into it.
"Your home is a really sacred place, and for me, personally, it's an absolute privilege to design products that people can welcome into their homes," said Kate Freebairn, Head of User Experience at Google Nest, speaking at Business of Home's Future of Home conference in New York City. "With that comes the idea of making technology that will get out of your way and allow you to interact with your family." In fact, explained Freebairn, Google prefers the term "helpful home" over "smart home."
The idea Google is working on and looking to pioneer is home technology so seamless, that, in a way, it becomes "invisible." Of course, we're not talking about some type of invisibility cloak you could place over unsightly items (but, uh, that would be super cool). Rather, it's the concept that tech can become more efficient, and boast design that is either pleasing or less noticeable. "I think we got used to technology being these big, black boxes," she told the Future of Home audience. "Technology can be beautiful and it can be playful ... Your home is really a sacred place."
Freebairn explained this direction further to Hunker: "I think the simple way to look at it is where technology gets in the way — of cables, or needing to fix things — a lot of it is just pushing it to the background, and it just works."
In designing technology, Freebairn's team looks to nature for inspiration, preferring rounder shapes, pleasing colors, and beautiful textures. "Styling that's going to look timeless but beautiful in your home," is how she put it.
This begs the question: How did we get to a place where we no longer want technology to be blatantly visible in our homes? For one thing, it's impossible to deny the seemingly unstoppable rise and obsession with "wellness" and how we're increasingly looking for options to make us feel as if we're living in the moment — not the future. Freebairn affirms that Google is putting that value first in its creations: "A lot of what we're saying is, what we create is not forcing itself to be the center of your home. It's up to the person and the homeowner ... the essence of the home is about people, it's not about the technology."