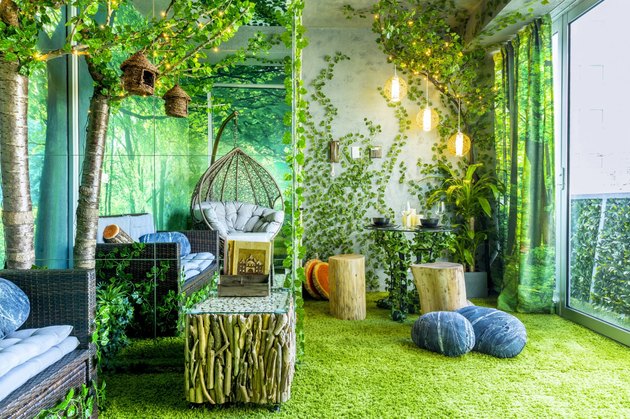 In case you haven't noticed, there have been a number of greenery-themed stays in various locations around the world popping up across Airbnb's site. As we chug towards fall and winter, it might be nice to add a touch of plant-inspired cheer to your life. (It's actually scientifically proven that plants can boost your mood!)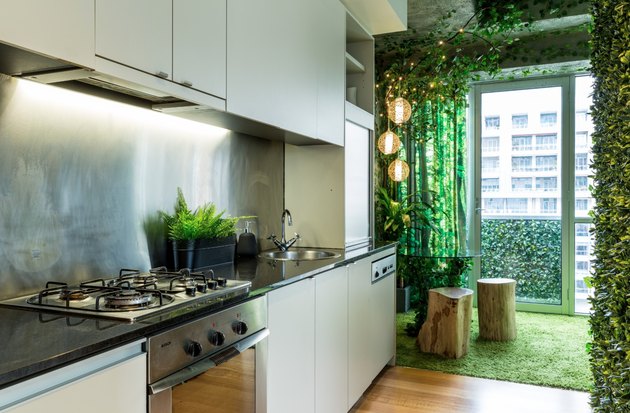 Take this forest-and-heaven-themed apartment in Melbourne's CBD at $133 per night, for instance. Though it's about to be spring down under, this foliage-filled Airbnb Plus vacation rental stays green year-round, thanks to faux ivy climbing the walls, forest wallpaper, and a moss-like carpet. You'll feel like a woodland fairy as you sit in the swinging chair surrounded by your personal indoor garden (aka your living room). There's even more forest fun in the bathroom — as you soak in the tub, you can gaze up at a garden wall.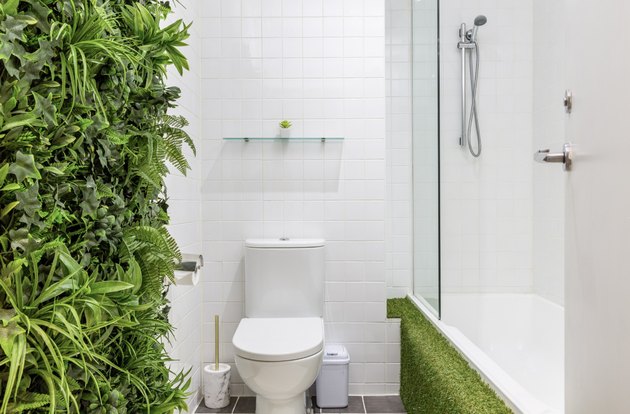 Check out a longer list of similar stays compiled by Airbnb here, with a few more highlights listed below.
Back Garden Room, Ningbo, China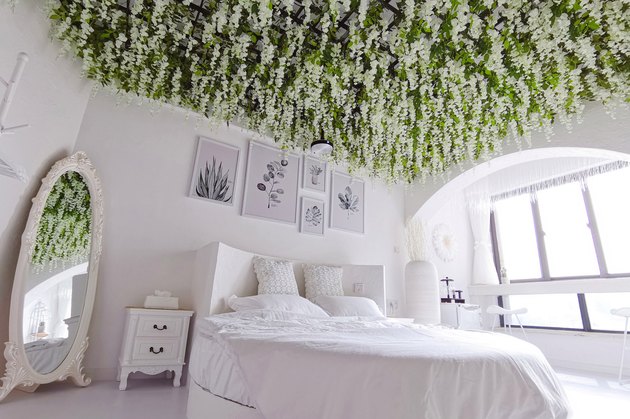 Flowers dangle from the ceiling of this minimalist white bedroom in Ningbo, China, which feels as if it could be an art installation. You can stay in it for $38 a night.
Cantine Biondelli in Franciacorta, Lombardia, Italy
This 18th-century estate in Italy features a vintage-style winter garden. Book your stay for $215 a night.
Penthouse Jungle Loft, Auckland, New Zealand
We're digging the boho chic vibes of this Auckland, New Zealand apartment. Book your stay for $61 a night.
---
Stefanie is a New York–based writer and editor. She has served on the editorial staffs of Architectural Digest, ARTnews, and Oyster.com, a TripAdvisor company, before setting out on her own as a freelancer. Her beats include architecture, design, art, travel, science, and history, and her words have appeared in Architectural Digest, Condé Nast Traveler, Popular Science, Mental Floss, Galerie, Jetsetter, and History.com, among others. In another life, she'd be a real estate broker since she loves searching for apartments and homes.
View Work