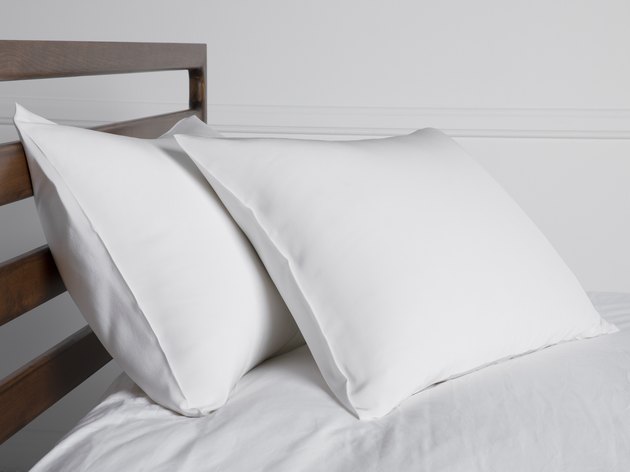 Hunker may earn compensation through affiliate links in this story.
With fall on the horizon, we're getting ready to snuggle up in our PJs and hibernate (read: watch Netflix wrapped up in a cozy blanket all weekend). Luckily, we can do so in style, thanks to the new collaboration between home essentials brand Parachute and fashion label A.L.C., which debuted today. The limited-edition collection is made out of 100% silk and features pajamas, a robe, pillowcases, and an eye mask.
"As two Los Angeles–based brands we both look to design effortless, cool pieces that bring the laid-back California aesthetic to life," Ariel Kaye, CEO and founder of Parachute, tells Hunker. "I've known Andrea from A.L.C. for quite some time and always admire that she stays true to using only the highest quality fabrics."
A.L.C. founder and designer Andrea Lieberman shares Kaye's excitement. "It's always been our mission to make women look and feel their best, and I'm thrilled to extend this approach to a new aspect of her life and in her home," she said in a statement.
Why silk? Kaye emphasizes that it's actually great for your skin and hair. "Silk not only feels amazing to sleep with, but the smooth fabric helps to reduce the appearance of fine lines and prevent split ends," says Kaye.
If that's not enough to convince you, take a spin through the collection below. Meanwhile, we'll be shopping the collection online (it's also available in both Parachute and A.L.C. stores starting today).
---
Stefanie is a New York–based writer and editor. She has served on the editorial staffs of Architectural Digest, ARTnews, and Oyster.com, a TripAdvisor company, before setting out on her own as a freelancer. Her beats include architecture, design, art, travel, science, and history, and her words have appeared in Architectural Digest, Condé Nast Traveler, Popular Science, Mental Floss, Galerie, Jetsetter, and History.com, among others. In another life, she'd be a real estate broker since she loves searching for apartments and homes.
View Work