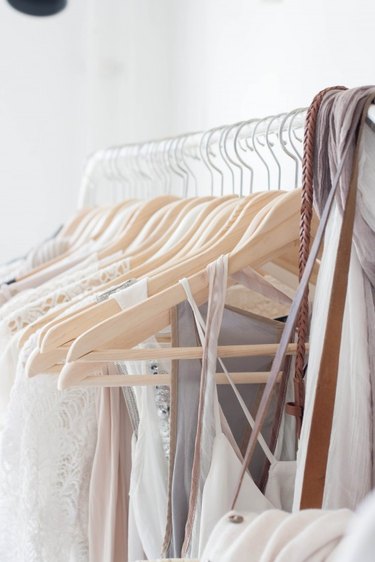 Your bedroom closet is where your day begins. Yes, you might head to the kitchen first to put the coffee on, or to the bathroom for a hot shower, or to the couch to catch up on the news for a few minutes before heading to work. But it's standing in front of your wardrobe that you'll take a minute to think about the day ahead, set the tone, and dress accordingly.
All the more reason to keep your closet super organized: This should be a calm morning ritual, not a time to tear everything out in search of that one top and leave your room a mess. Whether you have the luxury of a walk-in, with plenty of room for shoes, jeans, dresses, and bags all in one spot; a petite, narrower reach-in; or a freestanding wardrobe, here are seven bedroom closet ideas to bring order to your dressing area.
Bedroom Closet Idea #1: Hang Some Strategic Hooks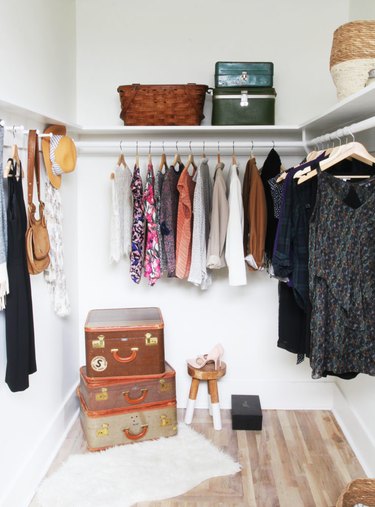 The number one bedroom closet idea to remember? Hang hooks — lots of them, like in this dream setup designed by Garrett and Cathy from The Grit and Polish. They're endlessly helpful for keeping your wardrobe in order. A row of hooks or pegs along one wall will keep oddly shaped items like belts and hats organized; or, use a standalone hook in an unused corner of the closet to hang your jeans at the end of the day when you're too tired to fold them up. So long as they end up on the hook and not on the floor, or piled on that new accent chair, your space will look neat.
Bedroom Closet Idea #2: Create a Staging Area for Your Next-Day Outfit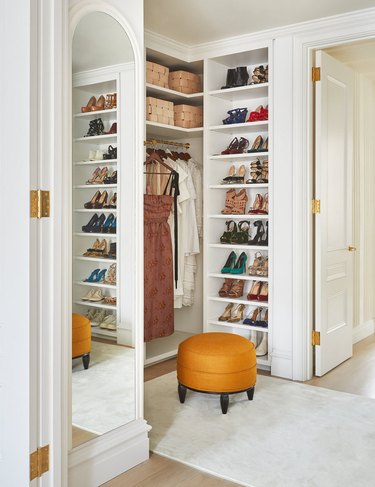 Designate a space in your closet to hang your clothes for the next day. This could be an empty wall in a walk-in or, if space is tight, just a hook affixed to the ceiling. It's a simple trick that will cut down on stress in the morning. And we're pretty sure that having your shoes as organized as the stilettos in this closet designed by Elizabeth Roberts would help, too.
Bedroom Closet Idea #3: Use All the Same Hangers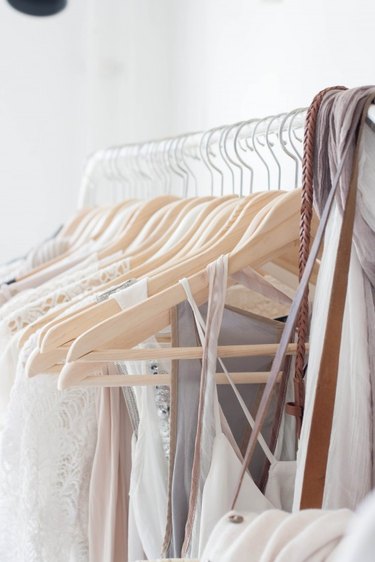 Just say no to mismatched hangers: Upgrading to matching hangers is an easy way to make your closet look more cohesive and considered. Opt for all-wood hangers like Avenue Lifestyle did here, or streamlined metal versions to save space. And, while you're at it, make sure they're all facing the same way: the hook part should point in towards the back of the closet.
Bedroom Closet Idea #4: Sort by Color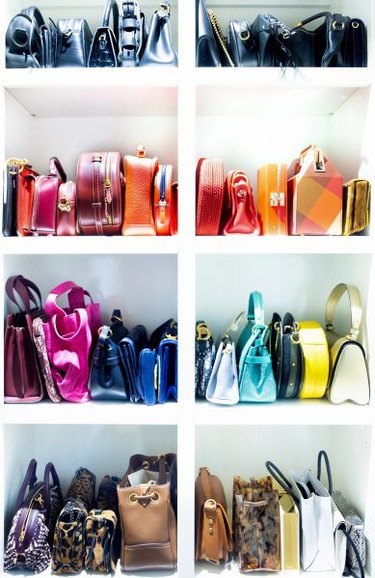 Bedroom Closet Idea #5: Store Hard-to-Fold Items in Baskets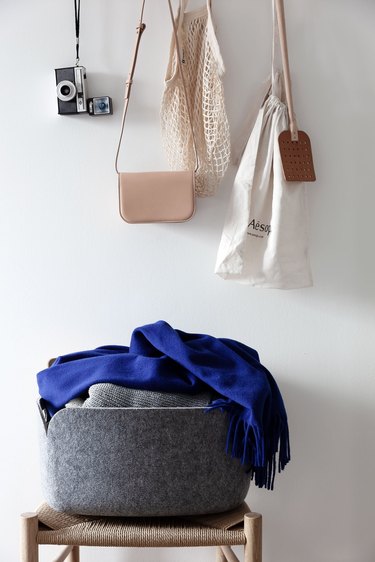 Bedroom Closet Idea #6: Nest Boxes Inside Drawers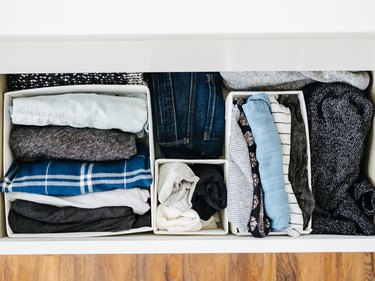 Marie Kondo and Caroline from Unfancy had it right: Adding small boxes can keep clothing drawers rom getting unruly. Designate one small box for folded tees, another for rolled-up tanks, and another for pajama bottoms to keep clothes separate and neat.
Bedroom Closet Idea #7: Store Shoes Down Low
You know that unused space at the bottom of your closet? Make good use of it by storing your shoes there. Install a low shelf in the bottom of a reach-in or walk-in closet, or place risers in the bottom of a wardrobe to prevent piles. Stashing shoes down low will keep any dirt far away from your sweaters and dresses, too, so your clothes are always pristine. Let Ariel from PMQ for Two show you how it's done.