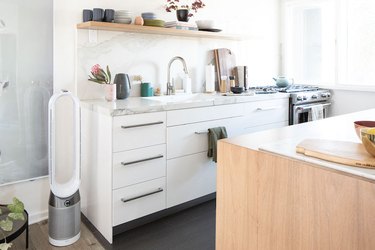 You've got your coffee maker of choice, your high-speed blender for all the smoothies, and maybe even a shiny copper electric mixer. But do you have an air purifier in your kitchen?
If your prime food-prep and feast-making space is the last place you'd think to put one, here's why you should reconsider: Studies have shown that air can be unhealthy to breathe (and even have a carcinogenic effect) when people cook in kitchens with poor ventilation, according to Pat Wong, manager of the Indoor Exposure Assessment Section at the California Air Resources Board (CARB).
"When people are asked about air pollution, they may just think about outdoor sources such as vehicles, industrial sources, and wildfires," Wong explains. "There is also a lack of understanding that tasks that people do during their normal daily lives such as cooking and cleaning may be sources of indoor air pollutants."
Even just co-existing with the materials used to build your kitchen could be contributing. Spencer Hampy, founder and president of Oasis Indoor Environmental, Inc, calls out that cabinetry, manufactured wood flooring, and spray foam insulation can be off-gassing harmful chemicals without you even realizing it (and the EPA agrees).
On the bright side, your marble or concrete countertops are immune from blame—and you can score an air purifier that will look right at home alongside them. The Dyson Pure Cool which uses a glass high-efficiency particulate (HEPA) filter to remove 99.97 percent of pollutants as small as 0.3 microns from the air, works by detecting and capturing those invisible chemicals. The built-in LCD screen even shows you which particles and gasses are present in the room, and provides a live air-quality report in real-time.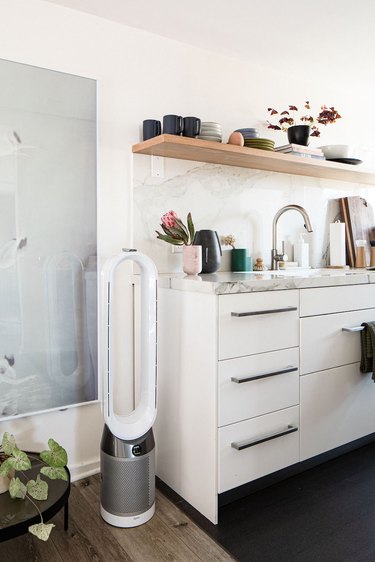 After pulling the pollutants from the air, Dyson Pure Cool projects clean, cool air into your space—which is a huge assist when your oven turns your kitchen into a sauna. Both CARB and Hampy recommend using an air purifier with a HEPA filter ("HEPA filtered air purifiers are a great way to remove indoor air pollution in the form of particulate such as smoke or dust," says Hampy), so it's got legit recommendations, too.
Beyond that, CARB advises installing a high-efficiency range hood over your stove and opting for non-toxic cleaning products from the EPA's Safer Choice database. You can also try leaving new cabinet doors open for several weeks before use and cleaning up any water leaks (behind your fridge, under the sink—you know the usual places) ASAP to prevent mold, says Hampy.
Now you'll know whenever you take a deep breath in your kitchen, all you're inhaling is the aroma of the cauliflower-crust pizza in your oven.