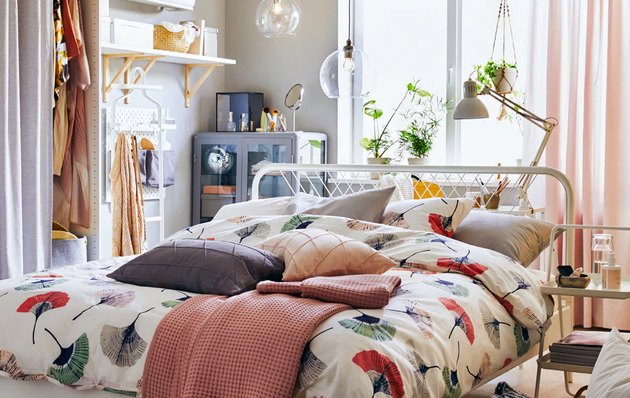 Over the past few months, IKEA UK's Instagram page has been featuring some favorite and most inventive hacks, encouraging others to join in on the creativity with the hashtag #IKEAatmine — which has already amassed a whopping 50,000 posts. Here are a few of our personal favorites from IKEA's picks:
@Thisismyhomestyle personalized their otherwise plain IKEA Gjora bed frame by turning a piece of cheery, palm-printed fabric into a headboard and adding a few actual plants to complete the botanical theme. This could even be swapped out as the seasons change for a cool, ever-changing look.
Another simple trick, @grillodesigns uses IKEA shelving in this small nook to create a workspace that looks so much more expensive than it really is. Geometric wallpaper adds extra interest to the minimalist space.
Sometimes the best IKEA hacks are simple ones — like this Tuvalie throw repurposed as a tablecloth by @topologyinteriors. Perfect for when you need a quick tabletop refresh.
We feel more relaxed just looking at this cozy space by @feather_lane. The Gjora bed frame gets just a slight makeover with a bit of greenery and an overhead light. Perfect if you don't have much space for a nightstand.
A Hemnes desk gets a new look thanks to this colorful makeover by @halfpaintedhouse. We love the eclectic mix of bold colors in this vanity/workspace.
Here's to bringing our favorite IKEA items to the next level.
---
Laura is a New York City-based freelance writer who writes about travel, food, and design. Her work has appeared in Architectural Digest, Bon Appétit, GQ, Condé Nast Traveler, and more. She's a sucker for a good curbside furniture find.
View Work