Your living room isn't just a microcosm of your personal style. It's also the scene of arguably all the best happenings in your home: Casual apps with friends, cuddle sessions with your dog, and every TV binge.
So you're forgiven for feeling like the right sofa fabric is the most important decision to make here. Turns out, there are other big factors to consider—and they all have to do with your indoor environment.
Surprised? Same. And yet, the EPA reports that we spend about 90 percent of our time indoors, and that concentrations of some pollutants are two to five times higher here than outdoors.
According to Becky Rapinchuk, founder of CleanMama and author of Clean Mama's Guide to a Healthy Home, that means it's time to add purifying your air to your list of home improvement goals (right alongside your hunt for the perfect mid-century coffee table).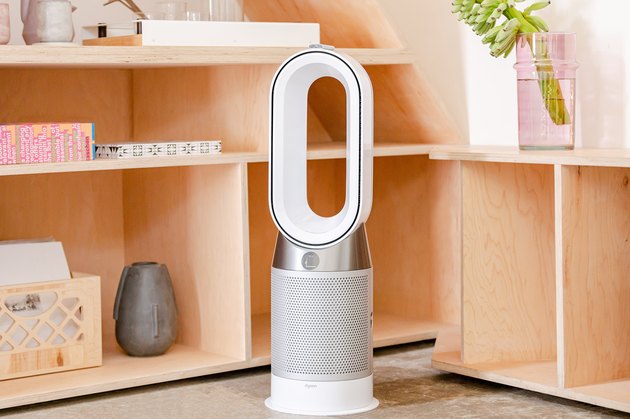 "It's important to have purified air in your living room for better air quality [and] to reduce the level of toxins in your home that we are breathing in on a daily basis," says Rapinchuk, citing VOCs (volatile organic compounds) from off-gassing furniture, mold, asbestos, dust, and allergens as not-fun stuff you could be exposed to.
And sadly, your no-shoes-in-the-house rule doesn't solve for all of that. So what's the first step? Take Rapinchuk's advice: "I highly recommend using air purifiers in our homes."
You can get that done with Dyson Pure Hot+Cool, which also emits purified hot or cool air to your space. The sleek purifier uses three sensors to automatically sense and capture pollutants, and you can see all the details you need to know—like temperature and harmful particles it has detected—on an LCD display. (Its minimalist smart-tech silhouette is just a bonus.)
Alongside that, Rapinchuk recommends avoiding candles and air fresheners with artificial scents. She also suggests vacuuming regularly to reduce pet dander and allergens, and, yes, removing your shoes when you come into the house (okay, so this does help a little).
But the purity of your environment doesn't stop just at your air—it also involves your lighting situation. Specifically? The blue light from your TV and devices, says Liza Kindred, founder of Mindful Technology.
"Blue light in and of itself is not bad, but it becomes a problem when we expose ourselves to excessive amounts, especially at night," says Kindred. "This is because blue light suppresses our bodies' production of melatonin. We need our melatonin levels to go up at night in order to have healthy circadian rhythms."
In other words, it can mess with your sleep—which is the last thing you want after you accidentally watch three episodes until midnight or stay up late on your laptop on a work deadline. The Dyson Lightcycle task light can help, with warm light that mimics the time of day in your geographic location. It features light sensors to adjust to the changing background light, tracks the color temperature as well as the brightness of the day, and is designed to reduce eye strain. Yes, it's that intuitive.
"Having the quiet background support of a device like the Dyson Lightcycle can give us the light we want, " Kindred adds. "However we choose to support our own body's rhythms, it's a true investment in our long-term health." Ready to give your living room an upgrade? Shop the essentials below.