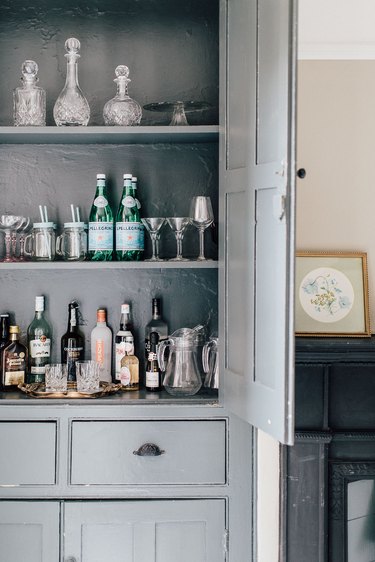 Let's be honest: Between the rise of small space dwellers and the all-too-real fact most people eat breakfast, lunch, and dinner at their kitchen island (or worse, hunched over their computers), it feels as if the traditional dining room is nearing extinction. True, today's crop of dining rooms might look different from the formal spaces of yesteryear, but people are still figuring out how to fashion spaces into communal dining areas — even when they're short on space.
The key to creating a place that's equal parts pretty and practical? Devising some borderline brilliant dining room storage ideas. Here are six standout dining room storage ideas — plus how you can bring these hacks into your space.
Sneaky Bench Seating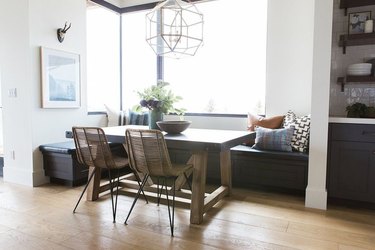 Never underestimate the power of a great dining bench. In addition to offering a cozy place to sit and fitting more folks at the table than a set of conventional chairs can ever accommodate, hollow benches with built-in storage offer a great place to stow extra table linens and dinnerware.
Best of all? Your guests will have no idea their stylish seat doubles as some low-key storage. After all, unless you analyzed the bench Studio McGee used in this home, you'd probably have no idea it features discreet drawers. Give this clever dining room storage idea a stylish touch by pairing your bench with a few sleek accent chairs and plenty of throw pillows.
Benches and Baskets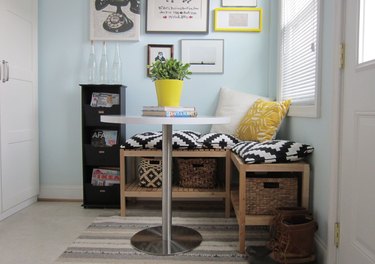 As Little House Big City proves, you don't necessarily have to hide your under-seat stock. Make your dining room storage ideas part of your design by placing spare silverware and cocktail napkins in pretty woven baskets. Not only does this tip make grabbing something out of storage quick and easy, but it also gives your dining area a ridiculously cool bohemian vibe.
Table With Drawers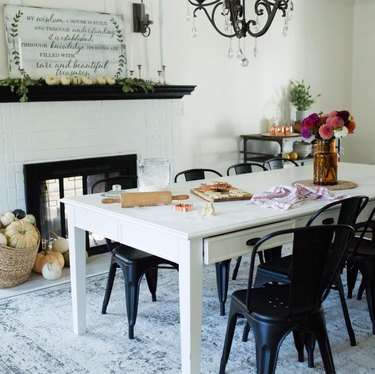 If you're looking to make the most of your teeny, tiny quarters, search for pieces that do double duty. Take this dining room featured in Cotton and Cashmere's space, for example. At first glance, the discreet drawers along the side almost tricked us into thinking this table is a repurposed desk. But when you notice it can simultaneously seat six people, this pick quickly feels like the smartest dining room table of all time. Go ahead, fill those drawers with placemats or arts and crafts materials for the kids.
Add an Island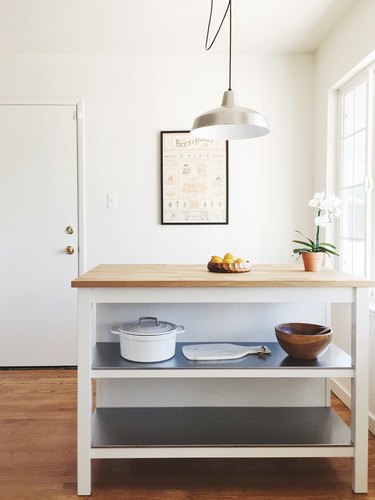 Short on space? Take a cue from Bay on a Budget and turn your kitchen island into the ultimate dining destination. This multipurpose pick can be used as extra counter space while you're cooking, plus it can double as a dining room table when your meal is prepped to perfection.
In Plain Sight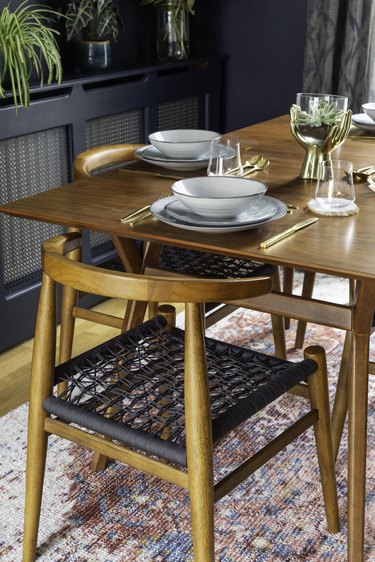 Sure, outfitting your dining room table with napkins, plates, and silverware may seem like a no-brainer when having guests over, but it can be a pretty sneaky way to show your dinnerware around the clock. Laying out your finest wares at all times is a great alternative if you're short on shelf or cabinet space, plus it'll show that your space is party ready.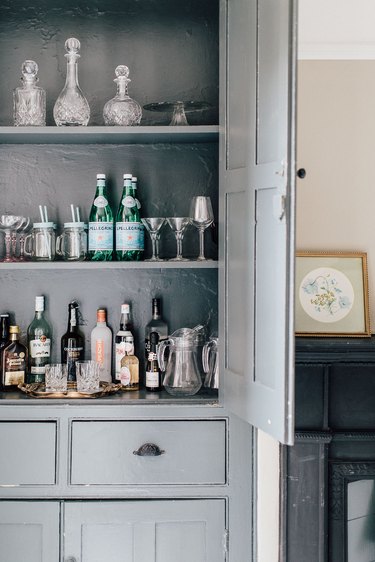 If you have built-in cabinets, consider using them to create a bar setup. Otherwise, setting up floor-to-ceiling cabinetry in a dining room can have the effect of creating a hidden wall.