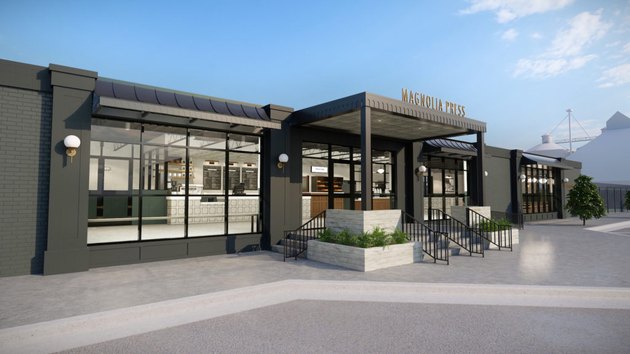 Joanna Gaines is getting ready to "fix up" your mornings with the opening of her new coffee shop, Magnolia Press. The space, located in a small, previously unused building at Magnolia Market in Waco, Texas, is set to open this fall, and Gaines recently shared some renderings and spoke about the shop on her blog.
"When we evaluated what we felt was missing from the overall experience and how we could use the old building next door, everyone on our team agreed a good corner coffee shop would make the perfect fit," Gaines wrote. She envisions the shop as a place for people to come together, slow down, and appreciate those moments that come with having that first cup while greeting a new day.
The name of the shop is inspired by the slow process of making French press coffee, and the full-flavored, complex cup that you are rewarded with at the end of it. Gaines hopes the shop will become a meeting place before shopping with friends.
The space was designed to make you feel as if you've stepped back in time when coffee shops were more about discussions, reading, and relaxing — rather than drive-throughs and baristas hurriedly misspelling your name. There will be long tables for communal seating, with deep hues and dark wood to further the feeling that you could spend a few hours curled up with a good book and a cup of coffee.
Of course, this isn't the only high-profile project Gaines has in the works: She is working on a second cookbook (following wildly successful Magnolia Table) and even has a new TV network in the works alongside husband, Chip. Oh, and don't forget she's a mother of five — no wonder she needs caffeine!
---
Laura is a New York City-based freelance writer who writes about travel, food, and design. Her work has appeared in Architectural Digest, Bon Appétit, GQ, Condé Nast Traveler, and more. She's a sucker for a good curbside furniture find.
View Work