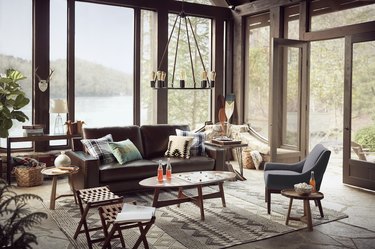 While spending the entirety of summer outside sounds like a dream, the heat (and subsequent sweat) will probably kick you back inside for a glass of lemonade and the best thing ever created: AC.
But just because you can't stay outside all season long, doesn't mean you can't bring the outside to you. Together with Walmart, we found gems to instantly elevate your home from just a cooling off spot to a total summer sanctuary.
Freshen up your floors with this durable, hand-tufted area rug, which provides splashes of texture to keep it lively and warm from the ground up. Plus, choose from various sizes and colors that'll best match the most trafficked part of your home.
Keep it light (get it?) this season with this mid-century modern table lamp, which adds illumination—and style—to any bedroom, living room, or reading nook with a natural textured shade.
If you're looking for a different way to show off the greenery in your home, this is the ideal spot for your plant posse to chill out for the summer. With its industrial-meets-rustic look, your walls are in for a bit of a glow-up.
Add a bright and airy feel to your bedroom with a classic silhouette decked out in fresh white metal. While it can give your sleep space a total refresh, the timeless look will also transcend seasons.
Everyone loves a chunky sweater—just maybe not to wear this time of year. Instead, opt for this knit braided accent pillow, which infuses a dose of clean Scandinavian cool to your summer hygge vibe.
When the sun starts to set (or you're ready for much-needed air conditioning) you can move the party inside and still accommodate up to 12 people. With this rustic dining table, all you really need is some greenery and you may as well be outdoors.
Transform your kids' rooms into an outdoorsy oasis with bedding complete with camp-themed illustrations and patch work that looks like the real thing (the included sheets stick to muted, subdued tones for a bit of balance). Who said camp can't last all year long?
The beach is cool, but you're forgetting the best part—the post-beach nap. With this cozy, transitional-style sofa, you have a smooth, sleek surface made from summertime snoozing.