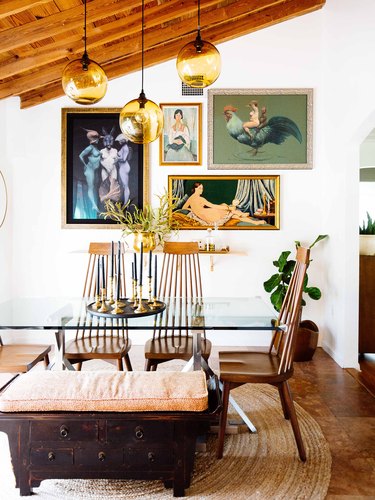 And while some people choose to buy modern interpretations of the style from retailers such as West Elm or Article, others enjoy the thrill of searching for collectible, vintage pieces. And let's be honest, no matter what your style preference, midcentury modern furniture is always a good excuse to go on a treasure hunt. But finding beautiful pieces to complete your storied setup isn't always as easy as just taking a stroll down the road to your local flea market.
So, here are a few tips and tricks of the trade to help you find vintage midcentury modern furniture that will add oodles of character and charm to your stylish digs.
1. Look for standard midcentury traits.
Midcentury furniture typically has standout characteristics that you can spot from a mile away once you develop a trained eye. Authentic pieces tend to be made of woods like teak and walnut (and bamboo and rattan), metal, glass, plastic, and even Lucite. The lines are usually curved, smooth, and unfussy, projecting a minimal yet attention grabbing look. You'll score major bonus points if you find a piece of furniture that displays a geometric design or original upholstery.
While you're perusing countless images of midcentury decor on Pinterest, jot down any other common characteristics and recognizable elements that you notice. This will help you narrow your search so you can find exactly what you're looking for faster and easier.
2. Go beyond antique stores.
Don't get us wrong, antique stores are amazing for discovering curated, vetted midcentury furniture pieces. However, these finds tend to lean toward high prices, and rightfully so, since the sellers have done their due diligence to hunt down these prized gems.
If you're keeping a budget in mind, voyage beyond antique retailers to uncover under-the-radar bargains at other places, such as Goodwill, thrift stores, flea markets, garage sales, or estate sales. Many of these items haven't hit the collectors' market yet and are generally priced low, low, low compared to the pieces at dedicated antique stores and markets. And don't be afraid to negotiate the price.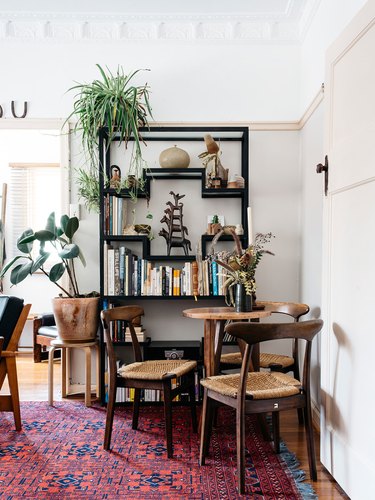 3. The internet is your friend.
This shopping philosophy can also be applied online. Websites such as 1stdibs, Christie's, and Sotheby's specialize in real-deal midcentury pieces that are highly collectible and highly coveted, and the prices will reflect this. But, if you're concerned about the bottom line, head to Craigslist, Facebook Marketplace, Etsy, eBay, Chairish, or EBTH to find midcentury pieces that haven't been snatched up by collectors and vintage aficionados. The prices from these resellers tend to be a bit more reasonable.
4. Keep the names of recognizable brands, designers, and furniture pieces at your fingertips.
Midcentury furniture often carries buzzwords, titles, and names of prestigious designers or brands that resonate with midcentury modern enthusiasts. Jot down a few of these names and keywords, that way, when you jump on Craigslist to look for midcentury furniture, you'll know to search for an "Eames chair," a "Knoll sofa," or an "Eero Saarinen Womb chair."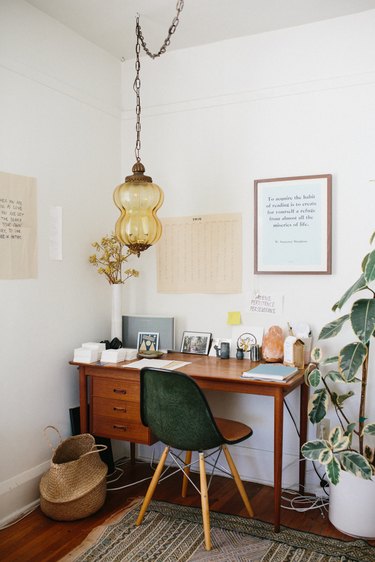 5. Use old-school words.
When searching for vintage pieces online, it can be helpful to go beyond modern verbiage for furniture items and think of terms that were frequently used during the midcentury era. For example, instead of searching for a "cabinet," you might search for a midcentury "sideboard," "buffet," or "hutch." This will open up your search query to authentic, bona fide midcentury pieces, like a "secretary" instead of a desk or a "tallboy" for a chest of drawers.
6. Don't shy away from pieces that need a little TLC.
If you're a farmhouse devotee, a library card catalog or dining table looks even more charming with a few nicks, scratches, and chipped paint. In the midcentury world, furniture tends to look its best when it's clean and free from blemishes. The smooth woods and plastics typical of the style can show wear and tear easily, which is likely not the polished look you are going for. So be sure to carefully inspect every angle for blemishes when searching for vintage midcentury furniture online or in person. And remember you can always ask an online seller for additional photos, too.
On the other hand, you might unearth a piece that has good bones and would look perfect in your home, but its appearance is less than perfect. In that case, factor in the extra cost to refurbish or reupholster the piece to help you determine if it's ultimately worth the time and money. And if it's just a few small scratches, you might be able to bring it back to life yourself using a buffer and some polish.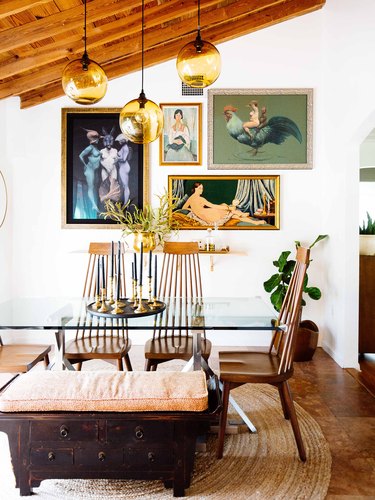 7. Do your homework.
To know a piece's worth, you simply have to do your homework. Research the name and brand of a particular piece and compare it to some of the other prices that you're seeing online. Get a feel for the cost of specific items before heading out to a flea market (that way, you'll know if something is way overpriced). You can always connect with fellow midcentury fanatics on Instagram to ask what they paid for a piece that catches your eye. Sometimes, you'll be surprised to learn that many of these homeowners have located their midcentury pieces through local thrift shops and Craigslist.
Another golden rule: Look inside drawers, under seats, and on the underside of tables for signage from the original manufacturer. Additionally, a piece of furniture made with solid versus wood veneer is also a telltale sign.
8. Buy what you like.
At the end of the day, if the midcentury credenza with scratches on it is calling your name or if you want to mix Lucite and teak chairs in your dining room, go for it. It's up to you to decide which midcentury treasures are worth splurging on. Buy items that are unique and speak to you to create a midcentury mix in your space that feels good and will showcase your own personality.