Ugh, the dreaded fitted sheet: confidence-ender, instigator of marital drama, obstinate enigma. It's 2019. Why are we still struggling with fitted sheets. All of the below ... hard relate:
1. The only reasonable inventor of fitted sheets is Lucifer himself:
2. It's like some kind of sick game:
3. This actually makes a lot of sense:
4. Actual instructions for folding a fitted sheet:
5. Someone should create a fitness empire based on folding fitted sheets:
6. Little known fact: All Tituba ever did was fold a fitted sheet:
7. Once they're on, it's only a matter of time until ...
8. The flying squirrel technique:
9. There's no shame in just giving up:
10. Not to get all heteronormative on you, but seriously, I have shown my male spouse how to fold a fitted sheet at least 735 times and each time, he's like, "Wait, wait, go back."
11. It's a rare occurrence: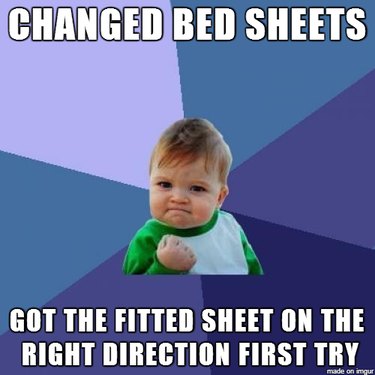 12. It's because she is:
13. Would watch:
14. It took some Instagram influencer to capture this sentiment in a highly 'grammable pic ... nevertheless ... truth.
And an honorable mention for the fitted sheet's pesky cousin, the duvet cover:
---
Leonora Epstein is Hunker's Senior Director of Content. She has previously served as Executive Editor at HelloGiggles and as BuzzFeed's Deputy Editorial Director. She is the co-author of "X vs. Y: A Culture War, a Love Story" (Abrams, 2014). Feel free to reach out at leonora@hunker.com.
View Work