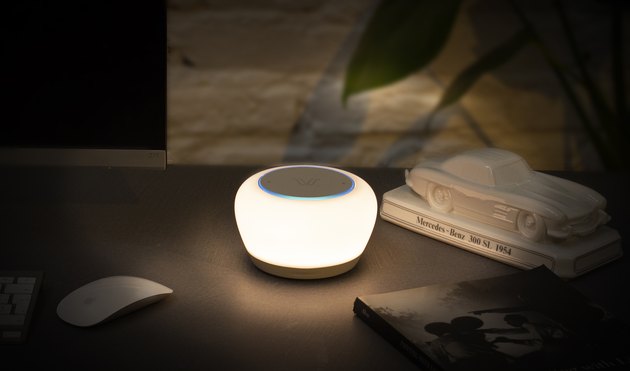 Ah, Italian design. From Gio Ponti to Franco Albini, the Italians simply do it better and the new Luna smart lamp, available for pre-order today, is no exception.
With smart assistants like Alexa on the rise (TechCrunch estimates there will be more than 200 million such devices in the world by the end of this year), the Luna lamp is among the first in the world to combine Alexa and wireless charging capabilities into one light source. Plus, true to its Milan-based makers, it looks pretty, too. The multicolored LED light is dimmable (using voice control, natch) and rests on a sleek, neutral base. The top of the lamp is the wireless charging platform.
Woodie Milano, the company behind the lamp, wanted to remove clutter from user's desks and nightstands. "Multiple functionalities shouldn't mean multiple devices," says Marco Iurilli, the company's CEO. "We created Luna to give the user the option to save money, space and to minimize the impact on the environment." The company also created the sleek Woodie hub, which luxury hotel brands have taken to around the world.
Woodie Milano isn't the only company innovating in the traditionally staid lighting space — Casper released its high-tech nightlight, the Casper Glow, earlier this year, while Philips' Eve Lighting Strip, an Apple HomeKit-compatible bendable LED, was all the rage at January's Consumer Electronics Show.
---
Laura is a New York City-based freelance writer who writes about travel, food, and design. Her work has appeared in Architectural Digest, Bon Appétit, GQ, Condé Nast Traveler, and more. She's a sucker for a good curbside furniture find.
View Work