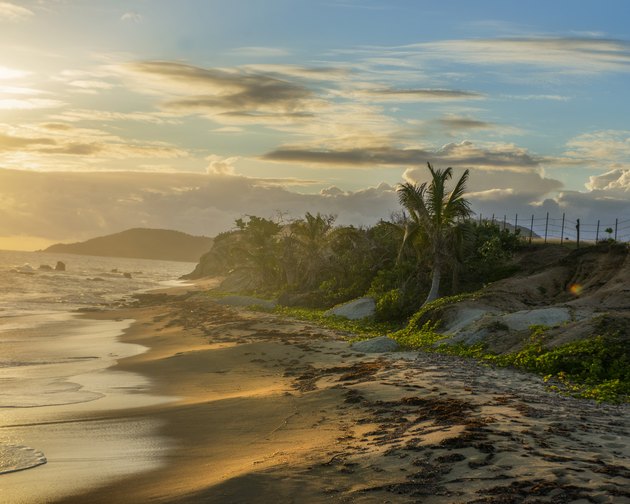 credit:
Stephani-Elizabeth/iStock/GettyImages
While we can't believe it's May already, we are getting super excited about summer! What better way to celebrate the upcoming season than booking a vacation? Airbnb just released a list of trending destinations for summer 2019, just in time to inspire your trip.
We've shared the overall top 10 trending destinations below — each has seen phenomenal search growth on the rental site as compared to last year. Interestingly, Puerto Rico claimed three of the top spots, demonstrating that tourism is returning in force after Hurricane Maria's devastation.
Valenciennes, France
Changsha, China
Matsudo, Japan
Marigot, St. Martin
Wuhan, China
Dorado, Puerto Rico
Vieques, Puerto Rico
Río Grande, Puerto Rico
Yeosu, South Korea
Bragg Creek, Canada
But Airbnb has gone one step further and determined trending destinations for different types of travelers, including families, couples, and solo trippers.
For families, domestic destinations are a bit more popular — proximity to the water or national parks seems to dominate there — though there are a number of far-flung international destinations on the list as well.
Sister Bay, Door County, Wisconsin
Four Corners, Florida
Tobermory, Scotland
Port Colborne, Canada
Kalkan, Turkey
Santa Clara, Utah
Carolina, Puerto Rico
Västervik, Sweden
Néa Péramos, Greece
Williams, Arizona
Couples are focusing on destinations abroad, from Europe to South America. Several are known for their spirits and beers, like Bushmills, Northern Ireland, home to the eponymous distillery, as well as Qīngdǎo, China, where Tsingtao beer is headquartered.
Nanterre, France
Nanjing, China
Williams, Arizona
Courseulles-sur-Mer, France
South Uist, Scotland
Qīngdǎo, China
Marigot, Saint Martin
Munising, Michigan
Salta, Argentina
Bushmills, Northern Ireland
Top 10 for Solo Travelers
And solo travelers are looking for fun in the sun, with beach destinations taking the top five spots. Though there are some more unique destinations on this list, too, like Vladivostok, Russia, the terminus of the Trans-Siberian Railway.
Rosarito, Baja California, Mexico
Destin, Florida
South Padre Island, Texas
Myrtle Beach, South Carolina
Ensenada, Baja California, Mexico
Peterborough, Canada
Vladivostok, Russia
Canela, Brazil
Cassis, France
Dortmund, Germany
Based on these trending destinations, we think this summer might be the season of adventure. Where do you plan on traveling?