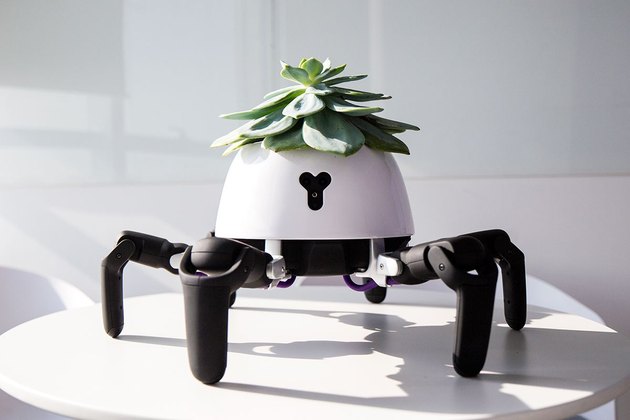 We know the struggle well: Being a good plant parent isn't as easy as it looks. If you've struggled to keep that sad succulent or pothos plant on your windowsill alive, there's a new invention that might help turn your black thumb green: a robot planter.
The HEXA Planter is a robot planter created to help keep your plants alive. In a shady spot? HEXA, which looks like a large spider with a container atop it, will uproot itself and find sunlight. It will also find shade if it's getting too much sun. Plant a bit thirsty? The HEXA will stomp around like an angry child until you water it. The HEXA will even make a bit of time for you, as well. Touching its base will cause it to spin in circles and dance around the room.
While it will find sunlight and shade for your plant, you still have to make some effort: Much like having to load a dishwasher or slamming your fist onto the alarm clock to shut it off, the HEXA requires you to do your own watering, even if it does alert you to the fact that your plant is thirsty.
The HEXA Planter will soon be available for purchase, but if you need robotic companionship today, with or without the plant life, the original six-legged robotic HEXA is available for, um, $949.
---
Laura is a New York City-based freelance writer who writes about travel, food, and design. Her work has appeared in Architectural Digest, Bon Appétit, GQ, Condé Nast Traveler, and more. She's a sucker for a good curbside furniture find.
View Work