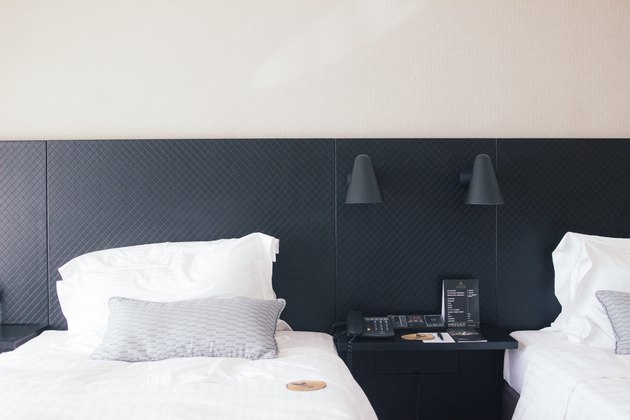 Remember the days when Google was just a simple search engine to help you find websites? Neither do we. The ever-expanding tech giant just added a new tool to its list of services with the quiet debut of Google Hotels, a meta-search product that culls the best hotel rates from a variety of booking sites, like Booking.com and Hotels.com. While Google has been experimenting with hotel booking for some time now, the company has finally revealed the full product.
As with Google Flights, users simply input a location and dates into Google Hotels, and the service returns a list of all available properties within those specifications, displaying information like rates, a brief description, the Google user rating, and images. There's a map, too, so you can see where all the hotels are located.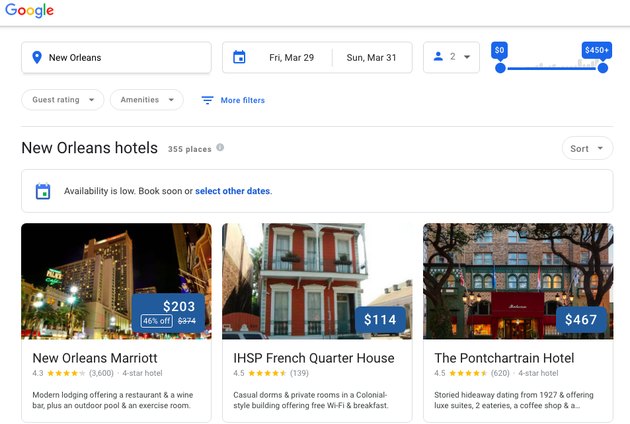 Of course, there are filters for budget, hotel class (star rating), and amenities, but where Google Hotels shines is in its deals function. If you filter your results to only display deals, a list of hotels offering cheaper-than-normal pricing pops up — Google tells you how much cheaper by showing a rate's percentage value below what's typical. For instance, when we just searched for hotel deals in New York for tomorrow night (last-minute vacation, anyone?), we can see that the Seton Hotel can be booked for $125, which is listed as 43 percent less than usual.
How does it determine such deals? In a blog post, Richard Holden, vice president of the product management team focused on Google's Travel products, writes, "This filter uses machine learning to highlight hotels where one or more of our partners offer rates that are significantly lower than the usual price for that hotel or similar hotels nearby."
Once you select a property, Google Hotels displays even more information about it, including hotel highlights like free Wi-Fi or proximity to public transportation, neighborhood information, and user reviews from various sites like TripAdvisor, Travelocity, and Expedia, among others. Then, most importantly, it lists the rates as offered by various booking sites — there's also an option to visit the hotel's website directly. (Hotels, by the way, will often match the lower rate you find elsewhere, and they'll often throw in perks like a free welcome drink or free breakfast.) Clicking on the rate usually takes you from Google to the booking website, though some of those sites have paid for ads that allow you to book directly on Google's page.
All in all, it's a super convenient and user-friendly tool to help travelers research what hotels are out there, then book a great deal in no time at all.
---
Stefanie is a New York–based writer and editor. She has served on the editorial staffs of Architectural Digest, ARTnews, and Oyster.com, a TripAdvisor company, before setting out on her own as a freelancer. Her beats include architecture, design, art, travel, science, and history, and her words have appeared in Architectural Digest, Condé Nast Traveler, Popular Science, Mental Floss, Galerie, Jetsetter, and History.com, among others. In another life, she'd be a real estate broker since she loves searching for apartments and homes.
View Work