IKEA's already in your living room, your bathroom, your kitchen, but now they want in on your bedroom, too. No, they're not invading your love life — but everyone's favorite Swedish retailer does hope to help its customers reach "bedroom nirvana" through the IKEA Kåma Sutra: The Ultimate Guide to Bedroom Satisfaction, a quirky, witty guide to 20 different bedroom furniture positions.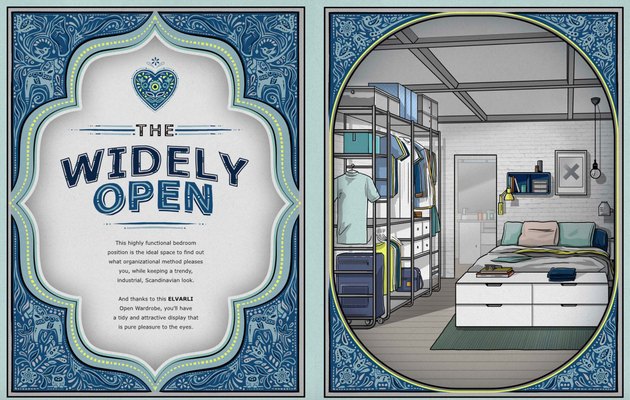 In the guide, the company shares "positions" like the "The Climber," which highlights the Svärta loft bed, and of course, "The Doggy Style," which includes the Godfjord bed and the Lurvig pet cushion. The tongue-in-cheek manifesto was developed based on IKEA's research into trends and insights into how people live — likely a result of the company's extensive annual report, Life at Home, which studies domestic trends around the globe.
"While popularly known for intimate positions, scholars have characterized the original text of the Kama Sutra as having a larger theme — the art of living," explained Sue Slominski, IKEA's U.S. Consumer & Customer Engagement Manager. "We believe that the art of living a better everyday life at home starts in the bedroom — after all, it's where every day begins — and this light-hearted manual gives people some added stimulation to experiment with and enjoy their private sanctuaries."
It's not the first time that IKEA has taken a lighthearted approach to its marketing: The innovative company most recently followed up on its 2002 lamp commercial with a new, earth-friendly take.
---
Laura is a New York City-based freelance writer who writes about travel, food, and design. Her work has appeared in Architectural Digest, Bon Appétit, GQ, Condé Nast Traveler, and more. She's a sucker for a good curbside furniture find.
View Work