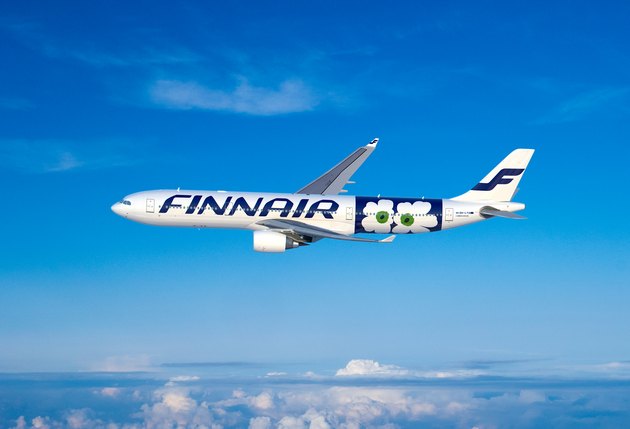 Sixty years ago, when you booked a flight, you were in for a treat. There was no division of classes on board the planes — all passengers got an incredible amount of legroom, and they were offered a full menu for meals served on real porcelain plates. Cabin interiors were fitted with elegant finishings, including works of art hanging on the walls. Back then flying was glamorous.
But as aviation developed over the years, that glamour was lost, and today, if you fly economy like the majority of travelers, you're herded like sheep into a tin can. But there's a glimmer of hope for some of that luxury to return to commercial flights — airlines around the world are working hard to elevate the flying experience for their passengers, working with some of the top designers and design brands to create products that make air travel a much more pleasant experience.
The first place you're able to interact with an airline directly is well before you step foot on the plane — in the lounge. Given that travelers are instructed to arrive several hours before their flights, there's a lot of time spent in lounges — at least for business-class passengers or frequent flyers. (If you're in economy, you'll have to dole out money for a lounge membership or a one-time entry pass.) So airlines are transforming lounges from a waiting room to a sanctuary before flights with beautifully designed spaces, amenities like spas, and world-class dining.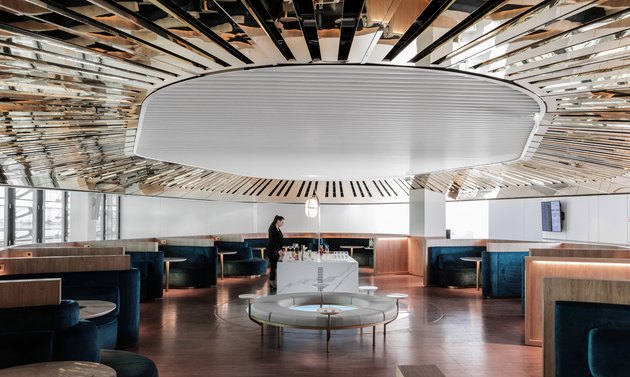 "The travel experience is primarily a physiological one. Naturally, our body is not programmed to be sent to another hemisphere within a few hours, nor is it programmed to sit still for five or 10 hours," says Mathieu Lehanneur, the French designer responsible for new Le Balcon dining room and bar at one of Air France's lounges at Charles de Gaulle in Paris. "Lounges must therefore pay great attention to our senses. Light, comfort, sound, and even air are essential components."
For his design, Lehanneur took inspiration from loges of opera houses, where you can find intimacy among the grandeur of the theater and the liveliness of the performance. Le Balcon — which features velvet banquettes and a white marble bar beneath a sculptural, mirrored ceiling — sits in the middle of the massive lounge space, but offers a sense of seclusion from the chaos unfolding around it. During the day, sunlight from large windows pours into the space.
"The challenge here is not just to wait for your flight or to occupy your impatience, but to completely prepare yourself for the trip," says Lehanneur.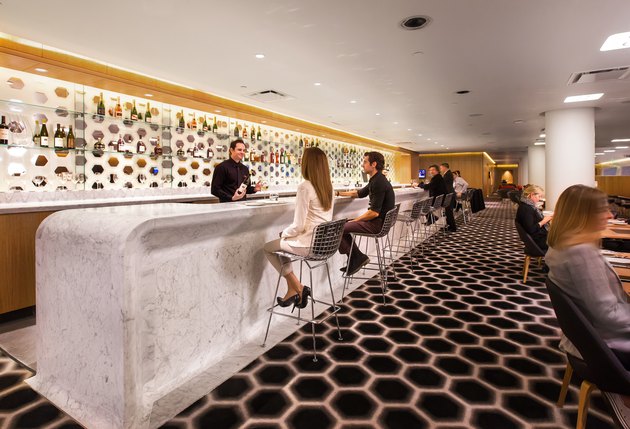 Qantas, too, has partnered with a well-known designer to work on its lounges. "Our Los Angeles First Lounge opened in 2014 and was designed by renowned Australian industrial designer Marc Newson," says Phil Capps, Qantas' head of product strategy and development. "In designing the lounge, Mr. Newson said he wanted to give Qantas travelers 'a beautiful, calm oasis to rest, work, or dine, prior to their flight.'" There, Newson used luxe elements like American oak for the walls, Tuscan Carrara marble for the floors and bar, and custom Tai Ping carpets to create a sumptuous sanctuary.
While the lounges are a first step in the process of air travel, the main experience takes place at 35,000 feet — and it's definitely the part of the trip that has the greatest room for improvement.
For the physical cabin itself, airlines are working with industrial designers to create layouts that maximize space for each passenger and offer streamlined functionality. Dutch airline KLM, for instance, has partnered with Dutch designer Hella Jongerius, who is known for her furniture, homeware, and textiles — a number of her collections have been included in exhibitions at design museums around the world, like the Museum of Modern Art in New York and the Stedelijk Museum in Amsterdam. For KLM, she's designed the World Business Class cabins on Boeing's 747, Dreamliner, and 777 aircraft, plus the economy cabins on the latter two.
Virgin Atlantic, on the other hand, had a different interior design challenge to contend with — designing an in-flight bar for its Upper Class (or business class) passengers. For its bar on the Airbus A330, Virgin worked with design firm VW+BS.
"The brief to start with was very open: a bar in the sky that must seat at least three people and the related dining trays," Ian Macready, a former VW+BS designer who worked on the project, told The Design Air. "Virgin Atlantic Upper Class is a very aspirational luxury brand, and we worked very closely with the Virgin team to understand their brand." The result is a striking space that's both futuristic and also slightly retro (that is, it wouldn't totally be out of place in Mad Men).
Cabin improvements, however, are going far beyond seating design and layouts. On long-haul flights, most business-class cabins feature seats that turn into lie-flat beds, so bedding adds another level of comfort to the in-flight experience.
In 2017, American Airlines partnered with Casper to create a line of products for its business class that includes a mattress pad, a pillow, a lumbar pillow, a duvet, a day blanket, and even pajamas and slippers. "Casper was a great partner for us to work with because of their expertise and experience in the sleep space," says American Airlines spokesperson Sunny Rodriguez. "We were able to work closely with their team of researchers on developing a product that would work well onboard and provide customers with the rest and relaxation they need on longer flights."
Similarly, Qantas partnered with Australian bedding company Sheridan to create a line featuring a memory foam mattress, a comforter, and three different types of pillows. While these amenities are only available for first-class passengers on international flights, there is one type of passenger that gets to enjoy a Sheridan product in all cabins — babies. "Those traveling with an infant in any cabin receive a special Sheridan-designed baby blanket," Capps notes.
While designer bedding might typically be reserved for the high-spending flyers in the front of the plane, tableware is used throughout all cabin types. And, in fact, it's one of the trickiest things to design on an aircraft — there are weight, storage, and serving issues to contend with — so it's no surprise that airlines have turned to design experts.
Finnair, for instance, worked with Marimekko on its tableware (and on the textiles used within the cabin, and on the livery on its Airbus A350 aircraft).
"For tableware, design sustainability and functionality were carefully taken into account. The tableware comprises mix-and-match plates, bowls and cups in soft, rounded shapes," says Manti Väätäinen-Pereira, a spokesperson for Finnair. "The design addresses various demands for inflight functionality, such as space-efficiency, stackability, and high rims to save travel suits from getting sauce stains. The Business Class range is made of special lightweight porcelain to reduce aircraft weight and fuel consumption."
Delta had a similar design experience when partnering with Alessi for its tableware in 2017. "It was important that the items worked with the operation in terms of how they are packed out for the flight, set up on a tray, taking spacing into account, and how they can be handled in our catering operations," says Brian Berry, Delta's director of onboard services strategic planning. "Size and weight were also a consideration when thinking about flight attendant service and safety. For example, we took into account the weight of a basket or coffee pot to make sure the pieces were not only beautiful, but functional and comfortable for the flight attendants when serving our customers onboard."
It's one thing to create new tableware from scratch to fit these limitations, but for this partnership, Delta wanted to adapt some of Alessi's classic designs.
"I think the greatest challenge was the wish of Delta to create a product based on the concept of the 'Blow Up' series of containers created for Alessi by Brazilian designer Fratelli Campana in the early '00s: it's a composition of short metal sticks that create a kind of nest that can be a bowl, a basket, a table, or a clock," says Alberto Alessi, president of Alessi. "It was difficult to transform it into a container for wine bottles to hang from the trolley when serving meals! But it worked out."
Though travelers in all classes on Delta get to use Alessi's tableware, some airlines do reserve their finest china for first and business class. For instance, Qantas' noneconomy tableware features a 16-piece crockery set, a cutlery set, and special glassware created by industrial designer David Caon with Noritake. (Caon, it should be noted, is a bit of a catchall partner of the airline, designing everything from seating on the Boeing 787-9 Dreamliner to the upcoming First Lounge at Singapore Changi to the company's current logo.)
KLM, too, has special tableware for its World Business Class passengers — Dutch designer Marcel Wanders first created a set in 2007 and has continued his partnership with the airline to revamp the collection over the years. Given both KLM and Wanders' Dutch heritage, it makes sense that the tableware reflects the country's design history through the incorporation of blue-and-white delftware and patterned cutlery.
While these myriad design elements are changing the flying experience as we know it, the majority of the improvements are for business- or first-class passengers. So right now, if you're willing to pay to play, you'll be rewarded with the luxurious experience of days of yore. But hopefully it's only a matter of time before the benefits extend back to economy — in the meantime, we'll be crossing our fingers for an upgrade on every flight.
---
Stefanie is a New York–based writer and editor. She has served on the editorial staffs of Architectural Digest, ARTnews, and Oyster.com, a TripAdvisor company, before setting out on her own as a freelancer. Her beats include architecture, design, art, travel, science, and history, and her words have appeared in Architectural Digest, Condé Nast Traveler, Popular Science, Mental Floss, Galerie, Jetsetter, and History.com, among others. In another life, she'd be a real estate broker since she loves searching for apartments and homes.
View Work