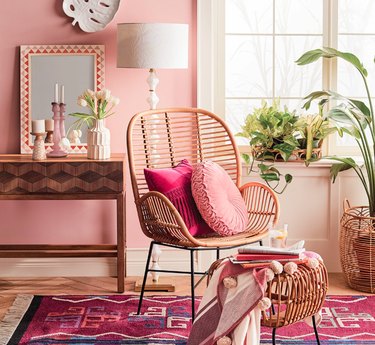 Small, but mighty — our favorite kind of decorative accessory. Rather than overhauling your entire interior, why not add in a few budget-friendly items that will breathe new life into your space? From colorful floor poufs to dramatic wall art, these under-$25 picks are sure to get the most bang for your buck.
At 16x16 inches, this basket is a perfect way to add a pop of color to your room, while also successfully keeping your blankets organized and out-of-sight.
Mirrors to bring in light, gold to bring in glam.
Plays well with others. (As in, it matches with pretty much every color.)
While scooping up all three of these trays will push you over the $25 mark, they are sold separately, so you can add some geometric eye candy for way less.
For a room with limited natural light, this bold wall hanging will mimic the feel of windows.
Is there a better way to prop up your feet than in millennial pink?
Just buy a fresh bouquet, divvy it up amongst these vases, and have a beautifully eye-catching centerpiece.
We get it, neutral was an easy color palette for your bedroom. But it's officially time to add a cherry-hued punch.
Conversation-starter-meets-extra-source-of-light.
Leave these vases on the floor next to your TV console for a subtle bohemian touch.
The products we write about are recommended by our editorial team. Hunker may earn compensation through affiliate links in this story.
---
Katie is the Commerce Editor at Hunker. She has previously been on staff at Shape Magazine, Well+Good, and PureWow, and has spent her life perfecting the art of online shopping.
View Work