We've all taken design inspiration from chic hotels, but what about your Airbnb?
Last year, the short-term lodging service launched Plus, a highly-curated collection of design-focused homes around the world. Now, Airbnb has crunched the numbers and uncovered a few of the most commonly-used decor terms found in their Plus listings.
Here are the top five, sure to be big trends in 2019:
1. 'Green' and 'Natural'
Nature comes inside in these welcoming homes. Whether it's potted plants, fresh-cut flowers, or lush ferns, Airbnb hosts like Chris and Dane are looking for ways to add impact through nature. The Stellenbosch, South Africa, hosts have even found that their decor has inspired guests after they leave the home. "We put flowers in their rooms, in the bathrooms, in the lounge," they said. "We've had guests that come back and say 'we decorated our home because of what you've done in your house.'"
2. Rustic Chic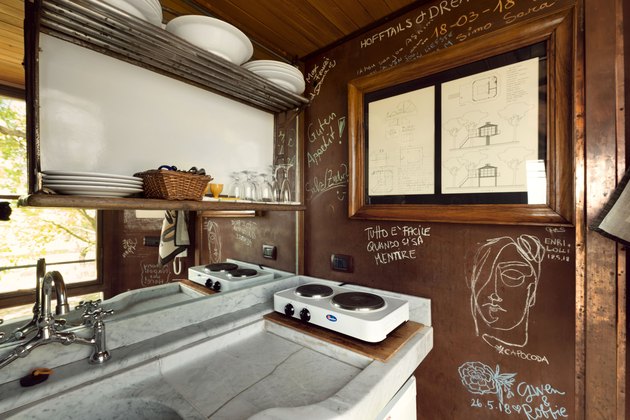 "Historic" and "modern" in the same listing may seem contradictory, but the company says it's seen a huge uptick in homes where these descriptors are fitting. Take Elena, a host in Italy's Tuscany region, who rents out a uniquely modern "treehouse." While the home is modern on the outside (and certainly one-of-a-kind!), she's kitted out the interiors with retro copper and steel fixtures and appliances, including a cast-iron stove.
3. Bottom-Up Lux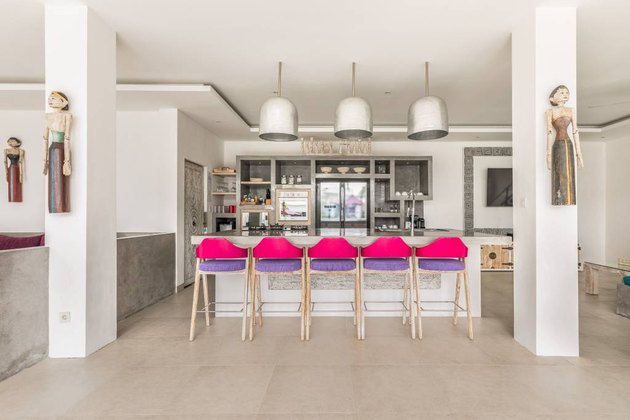 "From the ground up" has new meaning in some listings, as the company found that nearly 850 hosts purchased new rugs or refurbished their floors in 2018. Not surprisingly, the combo of "polished floors" and "high ceilings" was a popular one, creating drool-worthy spaces like this breathtaking Balinese villa.
4. Staying-In-imalism
One trend we've seen: Gone is the sometimes cold, stark minimalism of the past few years, as homeowners and designers seek out cozy, hygge-inspired spaces. Airbnb has noticed the same trend among their hosts, who are flocking toward comfortable fabrics and hospitable, yet simple touches like fresh, plush hand towels and new pillows.
5. Color Pop
While Airbnb finds that a more neutral color palette is prevalent across most of the company's Plus listings, that doesn't stop some creative hosts from expressing themselves in colorful ways, like this unique West Hollywood, California, home. After all, all neutral, all the time, is so boring — the company's research found that more than 4,500 hosts painted walls or hung new art before listing their home.
---
Laura is a New York City-based freelance writer who writes about travel, food, and design. Her work has appeared in Architectural Digest, Bon Appétit, GQ, Condé Nast Traveler, and more. She's a sucker for a good curbside furniture find.
View Work