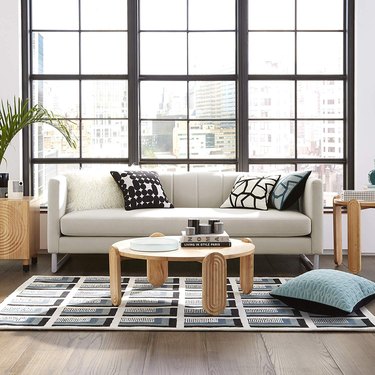 What was life before Amazon? We shudder to think of the time we'd waste running to the store to buy toilet paper in person. And while most of our recent orders are everyday staples, we do look to the platform for loads of budget-friendly furniture and decor. The thing is, finding these treasures means sorting through a lot of, well, crap. Here, our strategies for discovering great design on Amazon.
Scout things out.
If you're a fan of fun quizzes, the "Scout" page should have your mouse all over it. Get instant recommendations for everything from marble coffee tables to ball ornaments by clicking like or dislike below the images. The goods are all pre-sorted by category, so you can go straight to what you need without wasting time. We give it two big thumbs up.
Shop by style.
A designer's name goes a long way.
Go straight to the source if you know who you like. Maybe that's Jonathan Adler, who's Now House collection with Amazon makes his whimsical, vibrant style available to the masses. We're so tempted to buy his blonde wood cocktail table and top it with a wink box and terrazzo dice and call it a day.
Gift guides always make the heart grow fonder.
And the home gift guide does not disappoint. There are practical ideas like a new Miele turbo vacuum to more fluff items — literally— like fluffy blankets with tassels. You can find gifts that give back, gifts for techies who love to cook (search "spice auto-measure carousel"), and a home plate door mat for your baseball-loving dad. But our favorites are definitely found within the Domino insider's guide, for obvious reasons.
When in doubt, hire an assistant (it's free).
Amazon Assistant makes the whole experience smarter and more streamlined. Download the icon and it'll live in your browser. When you shop online, it shows you product matches and search results from Amazon, creates shortcuts for you, watches for deal notifications, and keeps an eye on product comparisons.
Jourdan Fairchild is the founder of Spruce Creative Studio, an e-design studio and styling service based in Durham, North Carolina.
---
Jourdan Fairchild is founder of Spruce Creative Studio, a virtual interior design and styling service.
View Work