Step Inside the Country's First Gender-Neutral, LGBTQ-Inclusive Children's Shop
Hunker may earn compensation through affiliate links in this story.
Just saying the name of Chicago's newest children's shop — Little Peach Fuzz — will make you giggle like a kid again. In this hue-happy space, every color of the rainbow is represented in the form of toys, decor, and progressive books about inclusivity and acceptance. Because as cute as Little Peach Fuzz looks and sounds on the surface, the store's mission runs much deeper.
As the country's first gender-neutral, LGBTQ-inclusive children's shop, Little Peach Fuzz is a very personal project for shop owner Claire Tibbs. When she was a little girl growing up in Oklahoma, Tibbs preferred Wrangler trucks to Barbies and begged her mom for clothes from the boys' section of Gap. "I remember being very annoyed at societal expectations around gender, and it made me extra rebellious. I just wish I would've had all of the options," she admits.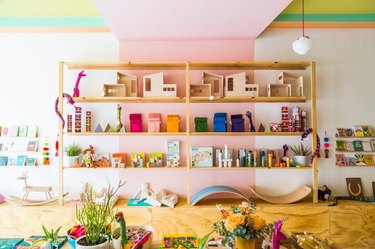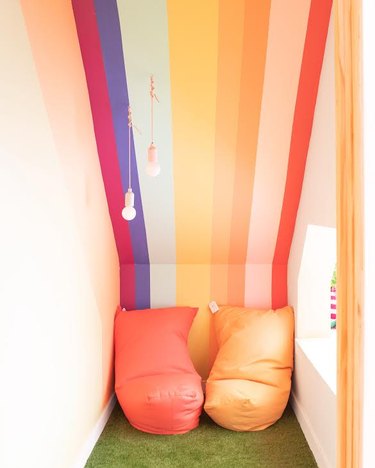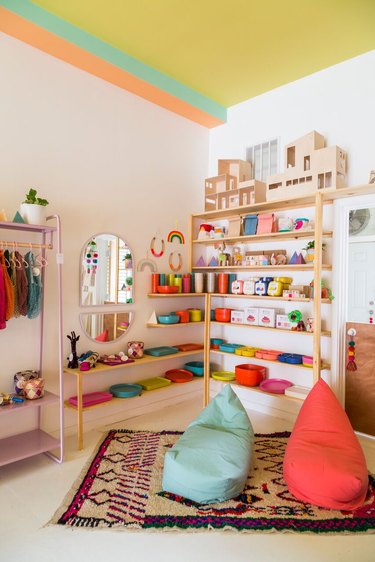 Little Peach Fuzz isn't Tibbs' first brick and mortar baby. In 2013, she opened a popular indie home goods store, Humboldt House, named for its Chicago hipster neighborhood home. But about two years ago, Tibbs started to get restless. While browsing a bookstore with a magical children's section on vacation in Paris, she started thinking about ways to celebrate the range of children's voices in America. "This was also around the time of a bunch of school shootings, and children and teens were desperate to show the world that they're more insightful than we give them credit for," she says. "Kids have larger vocabularies than ever to express their thoughts and feelings, and it's healthier for everyone involved if we celebrate these journeys of self-discovery rather than ignore them as 'passing phases.'"
And so at Little Peach Fuzz, which opened this summer, anyone and everyone is welcome. Shoppers run the gamut, from kids who've just come out to their parents and peers to adults browsing without kids in tow. "I don't have kids myself, so I'm still learning — but the truth is, toys delight all ages." Tibbs has witnessed adult after adult squeal with delight playing with toy poppers, and she's watched kids who've never met happily play together in the rainbow reading room.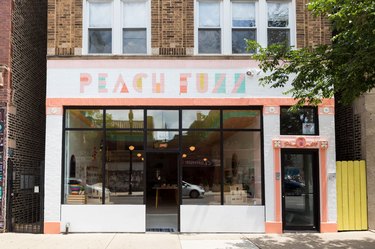 As a visual, tactile person driven by community and personal connections, Tibbs believes there will always be a need for physical stores where you can pick things up and feel them with your hands. She stocks the shelves with kids' jean jackets and iron-on letters, color-blocked bookbags by Dutch brand Sticky Lemon, Areaware's Blockitecture modern building blocks, inclusive greeting cards for nuanced situations like adoptions, and gender-neutral nail polish. Her favorite recent find: handmade wool Mexican toys that are equally gorgeous and goofy.
Beyond the goods, Little Peach Fuzz also serves as a gathering place for community events. Tibbs plans to host more regular events, such as yoga and meditation classes for kids as well as poster-making parties for future protests.
A middle-aged customer came in recently and picked up one of the children's books, which Tibbs hand-selects for their efficient yet effective lessons. He looked up from reading and said to her, "This store just makes you feel good." And is there anything more rewarding than that? Tibbs thinks not.