A few weeks ago, my colleague Laurie and I went to Target to do one of our "Under $50" challenges. (We give two Hunker team members $50 each, send them into a store, and then document their finds on Instagram — check out our latest here.) It was kind of hard not to gravitate toward the entire Hearth & Hand With Magnolia collection, because tbh, it's a dominating presence in Target's home decor section.
One of the pieces I chose was this wood bud vase from the Hearth & Hand line. Initially, I thought it was a candle holder, but look inside, and there's a tiny glass test tube that allows you to keep a single bud fresh. Immediately I thought two things: 1) This actually looks pretty dang Scandi-chic and if you told me you got it in a little shop in Stockholm, I'd believe you, and 2) Why could't you also use it as a candlestick? The opening (without the glass tube inside) seems perfectly sized for a tapered candle.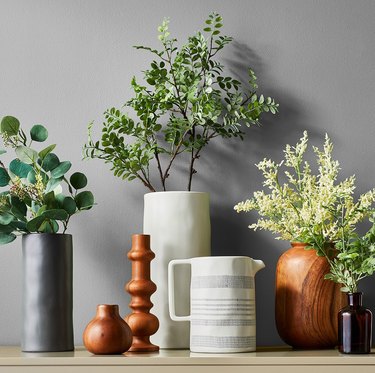 I didn't actually end up buying the item during our Target trip, but I couldn't stop thinking about it in the weeks since. Luckily, it's still available and the price is certainly right. What's more, is it just feels like the right time for an item like this ... don't you think it would be perfect for a fall mantel setup? (Answer: Yup.)
---
Leonora Epstein is Hunker's Senior Director of Content. She has previously served as Executive Editor at HelloGiggles and as BuzzFeed's Deputy Editorial Director. She is the co-author of "X vs. Y: A Culture War, a Love Story" (Abrams, 2014). Feel free to reach out at leonora@hunker.com.
View Work