When you welcome a baby into your family, you make a lot of big decisions on how you'll provide the best care possible. Congratulations if you've checked off on the diaper decision: cloth or disposable. Or maybe you're still on the fence. We won't make that decision for you, but we will acknowledge that there are advantages to cloth diapers. The biggest one is cost—buying and laundering cloth diapers is less than half the cost of buying disposable diapers. However, if you want to reap those savings, you need to do the dirty work of cleaning soiled diapers. So let's keep everyone in the nursery happy with a few cloth diaper cleaning tips.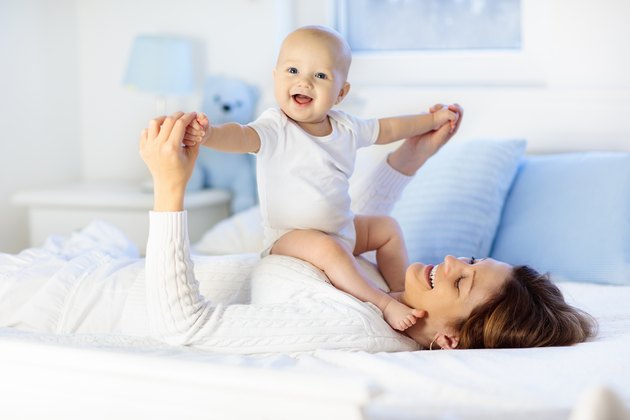 credit:
FamVeld/iStock/GettyImages
Things You'll Need
Cloth diapers

Diaper sprayer (optional)


Diaper pail
Laundry detergent without perfumes and dyes (usually what works for your baby's clothes will also work for the diapers).

Dryer balls

Washing machine and dryer
On average, you'll change a baby's diaper every two hours. When the diaper is soiled, rinse it off in the toilet bowl with either a few quick swishes or use a diaper sprayer that attaches to the toilet. If the diaper has snaps or velcro closures, press them back into place before putting the diaper into a covered diaper pail. The diaper pail should seal tightly enough that foul odors won't be a problem, as diapers accumulate and it will keep out curious toddlers and pets. Wash diapers every other day to minimize the odor and prevent staining.
When it's time to wash diapers, wash them separately from the other laundry. This keeps the process simple: one load that doesn't require any sorting.
Load diapers in the washing machine and run a prewash or soak cycle with warm water and detergent. This will remove much of the urine and feces before actual washing. When you measure detergent, do not use too much or too little. Adjust the amount to the size of the load and how soiled the diapers are. If you have hard water, you might need to use a little bit more detergent; if you have soft water, you might need to use less. This can take a bit of experimentation, however most people do not use enough detergent when it comes to washing diaper.

After the prewash,wWash the diapers on the heavy-duty cycle with hot water and detergent.
Complete the wash cycle with a cold water rinse. Depending on your water hardness, detergent, and child's sensitivity, you might need to do a second cold water rinse. Do not use fabric softener because it coats the fibers, making them less absorbent.
Load diapers into the dryer. Do not use dryer sheets but rather add wool dryer balls to speed up the drying cycle.
You can either fold the diapers or leave them unfolded in a pretty basket near the baby's changing station.
Tips
Occasionally, add a quarter-cup of bleach to the washing machine bleach dispenser. This will sanitize the diapers and remove odors. You'll know when it's time to add bleach to the wash cycle if you find that the diapers still have an odor after washing and drying them.
credit:
freemixer/E+/GettyImages