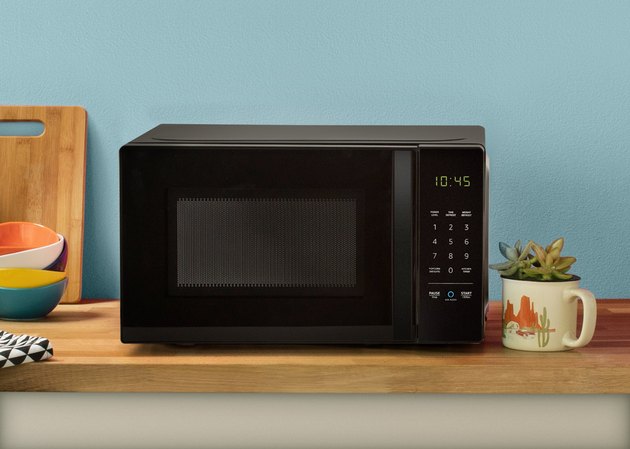 Are you ready to cook with Amazon?
The new microwave lets you ask Alexa to cook, reheat, defrost, and also includes quick-cook presets, meaning you can ask the device to "microwave two potatoes" and let it do the rest. The company plans to add more cooking presets over time. Other than voice controls, the device is mostly inline with your typical microwave, featuring 10 power levels, a turntable, a child lock, a clock, and a kitchen timer. (One quirky feature: Auto Popcorn Replenishment. Using Amazon Dash technology, the microwave can automatically reorder popcorn when you run low.)
While it is surprisingly affordable at just $59.99, there are a few downsides.
First, the new appliance isn't wholly hands-free straight out of the box, meaning if you want to reheat that chilly cup of coffee you forgot about this morning without leaving the comfort of your couch, the microwave will need to be connected to an Amazon Echo device. Otherwise, you have to press the Alexa button on the front of the microwave to activate voice controls.
And second, the glossy-black finish screams "dorm room chic" a little and doesn't jive well with the sleek stainless steel kitchens that are so popular right now. No word on if the company plans to add additional finishes in the future.
So, is this the microwave for you? If you're not too caught up on aesthetics and want to add to your smart home repertoire, we say go for it! You can pre-order the microwave today, and Amazon says it will ship on Nov. 14.
---
Laura is a New York City-based freelance writer who writes about travel, food, and design. Her work has appeared in Architectural Digest, Bon Appétit, GQ, Condé Nast Traveler, and more. She's a sucker for a good curbside furniture find.
View Work