The first time designer and blogger, Amy Tangerine, decided to Go RVing with her husband, JC, and son, Jack, she did not quite know what to expect. She did know that she wanted to bring along some comforts of home for their weekend excursion up the California coast. For her son, Jack who is 4 ½ years old, it meant a nightlight and stuffed animal to snuggle with in his special bed above the driver's seat, which he affectionately called "the roof."
For Tangerine, it meant creating a cozy space that didn't just suit the great outdoors, but also her own design sensibilities.
At home in Los Angeles, Tangerine's décor is what she calls eclectic modern—a mix of CB2, West Elm, flea market finds, and a lot of neutrals with pops of color. She was able to bring a similar aesthetic to the RV site at El Capitan Canyon, just north of Santa Barbara, with a few thoughtful accessories.
"One great idea was to bring the vintage cooler," says Tangerine. The cooler was a workhorse that, in addition to storing treats and looking chic, doubled as a table and could also be used as a stool. "You want items that are multipurpose," says Tangerine, "because you're confined to a limited amount of space."
Texture can be a great design element, too, especially in the form of decorative throw pillows, sheepskins, and blankets that can be used indoors and out to bring in a stylish-yet-homey feel. "It makes a big difference out by the campfire," she says. "It felt like this nice, little backyard picnic."
Poufs and floor pillows are easy to tote from home and offer flexible seating options. Also, string lights make it all feel more chic—and help set mood long after the campfire dies down.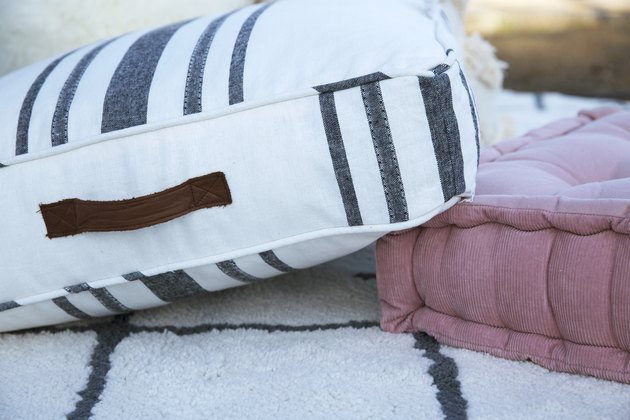 "It was nice to be able to sit outside and have that option of being all together and doing what we individually enjoy," says Tangerine. "So, JC could be reading, I could be doing something creative, and Jack could be collecting sticks and rocks and playing in the dirt."
"Of all the toys I could have brought, he would have been happy with a bucket and a shovel." It's the beauty of the camping lifestyle—but with the comfort of a real bed and bath.
To create your own cozy outdoor space when you Go RVing, consider the following:
Bring an outdoor rug, to define and anchor the space

Add pillows and poufs that can be used both inside and outside

String lights make it an outdoor space feel less temporary

Blankets, throws or sheepskins can be used to mask utilitarian camp gear and make them softer and more homey

Set it up as you would a living room, with seating areas, side tables, and some open floor space for the kids

Bring things to share.
The last bullet is the one Tangerine feels most passionately about, as a newly minted fan of the RV life. She brought glowsticks for her son to share with the new friends he met at El Capitan, and he could barely wait for the sun to go down. "With RVing, it's the culture and the community," she says. "The people you meet are so willing to share what they brought and share ideas and share time."
One little girl in a neighboring site befriended Jack. "She was there that night, and in the morning too, sharing breakfast." It is that moment of togetherness, with strangers, that could really only happen out in nature and on the road.
---
Laura Lambert is a Los Angeles-based writer and editor who covers lifestyle, design, and women's health.
View Work