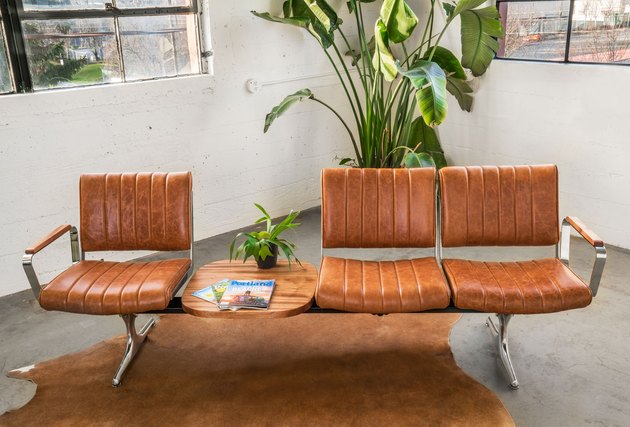 There may well be no airport in the U.S. that inspires as much nostalgia (and vocal support) as Portland, Oregon's. When Portland International Airport was due to be remodeled in 2015, travelers met the news with a response so emotional that it garnered national media attention. Namely, the airport's uber-'80s teal carpet (of shoe selfie fame) was to be replaced, and nobody was having it. Fortunately, a solution was found: A (much cleaner and less worn down) look-alike carpet was installed.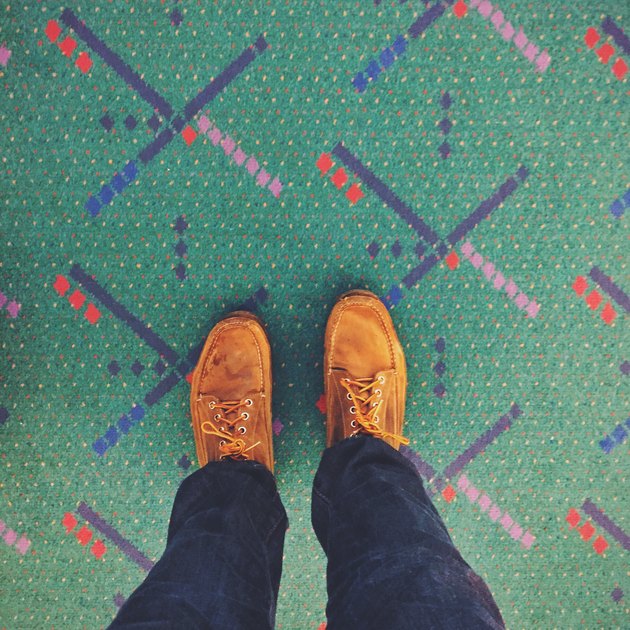 You'll be happy to hear that the carpet-selfies live on ... but what about the other casualties of the remodel? Like the midcentury-style terminal benches that hosted jet lagged nappers from all corners of the Earth for 30 years? Well, as it turns out, they've recently caught their second wind.
Ben Vikers, Ryan Alexander Widell, and Steve Mika are three friends who met while playing pick-up soccer in Portland. With work experience in the furniture industry as a common thread, they had their eyes peeled for a project to take on together. And that opportunity arose in December 2017 when Vikers came across a government liquidation website listing the Portland airport's former benches (which were made in Mississippi in the late '70s) up for auction.
"Something about those benches we knew was important to the city of Portland," Widell told Hunker. "But nobody had told their story."
The trio debated finances and how they'd redesign the benches, and ultimately decided to jump on the opportunity by purchasing all 400 and launching their new company PDXoriginals.
"It was an all or nothing endeavor, so we couldn't just buy 10 of them," Widell said. "We had to buy over 400."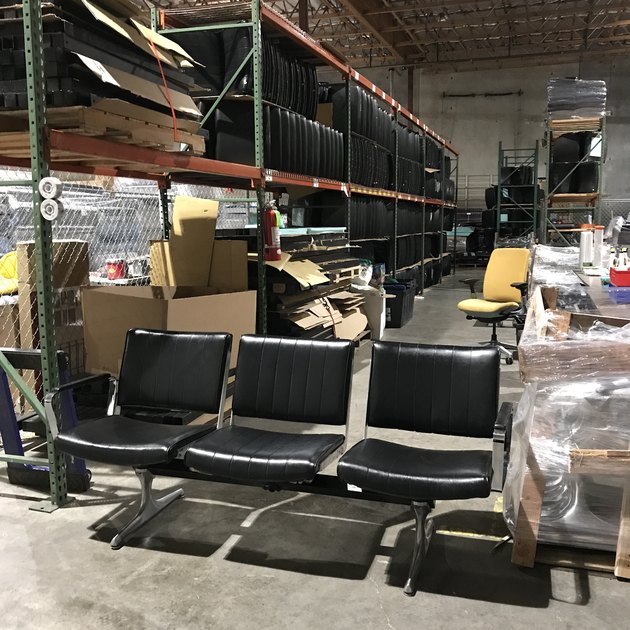 Now, moving the over 400 Chromcraft benches to the PDXoriginals warehouse was a task to say the least, but by January 2018 the job was done and the reupholstering process had begun. Vikers, Widell, and Mika planned to breathe new life into the benches and sell them to nostalgia seekers, but attending an event by Oregon social services organization New Avenues for Youth opened their eyes to how they could use the seats to help the Portland community, too. Digital agency AKQA had helped to create an in-house design program to teach the organization's youth, who are experiencing or are at risk of homelessness, screen printing. This sparked the PDXoriginals team's idea of also teaching them upholstery — a life skill that could create job opportunities.
So, they arranged for local designer Michel Hulsey to offer an upholstery session for the youths.
"If this is a way off the street, that's awesome," Widell said. "If just one person in that program makes it a job and starts a company and grows it — there have been so many cool things that have come of this — but that would be the ultimate."
And the PDXoriginals team hosted a charity initiative for New Avenues earlier this year, too, that took the seats into a whole new world. They auctioned off benches customized by a select group of locals with significant clout to benefit the program. And designers Anna Coghill and Olivia Lewis at New Avenues' apparel company dfrntpigeon got to design a bench for the auction, too, using their new upholstery skills and the help of M&M Creative Upholstery.
In the end, the limited edition designs were unveiled at the Design Week Portland opening party and then displayed at TEDxPortland and a gallery in Portland's The Fair-Haired Dumbbell building. The locals who designed custom benches for the auction were: Nike, digital brand and experience innovation company Instrument, footwear design academy Pensole, The Art Institute of Portland, strategy and design studio Fiction, illustrator and designer Brian Kappel's company Space Monkey Designs, the Felling Furniture Studio, designer Damon Johnstun of design firm Tiber, handmade home decor brand Lagom Handmade, and, of course, dfrntpigeon.
Dfrntpigeon's design rang a bell, to say the least ...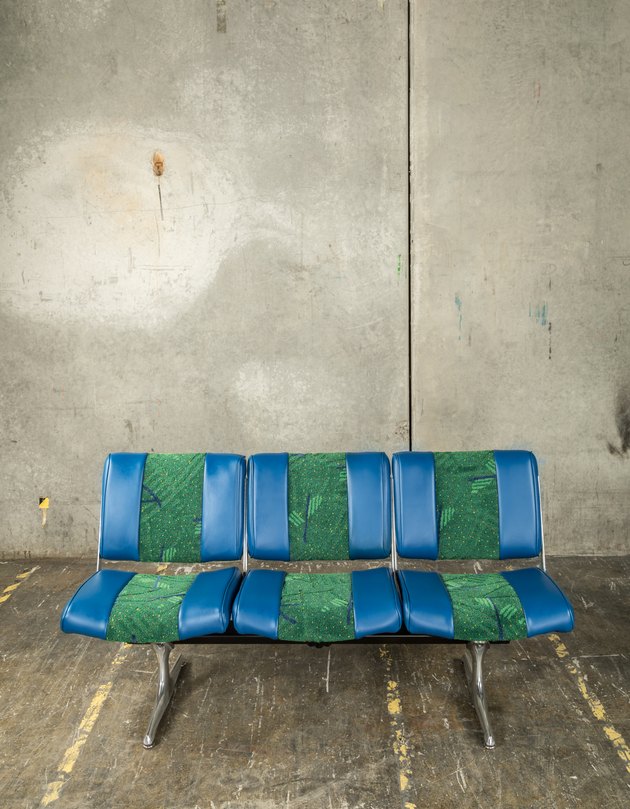 Nike's approach was super unique, in that their bench remains a blank canvas.
The month-long auction of the benches ended May 31, 2018, and $7,500 was raised for New Avenues.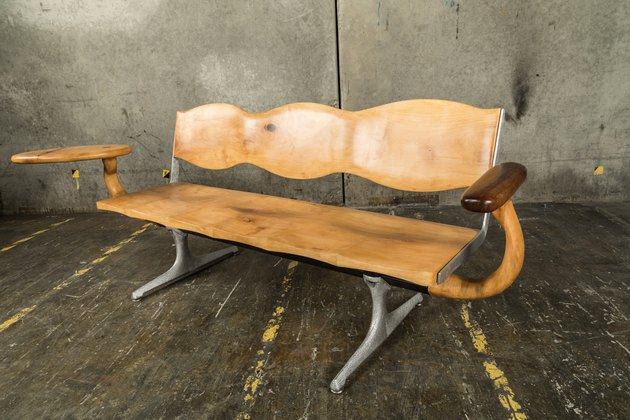 The auction may be over, but permanent collection benches are always available for purchase on the PDXoriginals website and can be viewed at their showroom in Portland. Local retailer MadeHere PDX also carries the seats. Their plastic arms are replaced with local hardwoods and the original compost wood tables with solid hardwood slabs from local wood mills or wood shops like Creative Woodworking NW.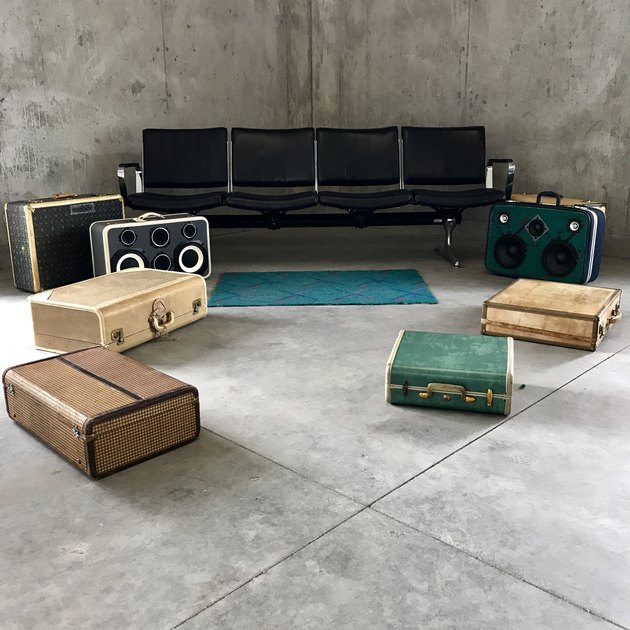 "Outside of vinyl, no one has seen what these Chromcraft benches could look like," Widell said. "When our upholsterer calls us and says 'your benches are ready' or 'your chairs are ready' when we do a new design it's like Christmas. We don't know what we're about to see. You throw out 90 percent of your ideas and land on one or two good ones."
Prices start at $585 for accent chairs and $750 for full benches. There are approximately 20 different styles in the current line, from plush velvets to brushed wool, but custom orders are also welcomed.
"The people who we've sold the benches to are so excited," Widell said. "Buyers start telling us stories of the airport ... telling us about the last time they sat on one of these, or the person they met, or the time they had to sleep overnight at the airport — we don't even ask. They just start telling us memories. That's really special. Because it means something to have traveled."
So what's next for the guys at PDXoriginals? They hope to refurbish the past-their-prime terminal benches of other airports, too, and have been in talks with boutique airports, restaurants, and commercial interior designers.
There's something to be said for preserving relics in a time where furniture — and most goods, really — feel disposable. The reactions of those who've purchased a PDXoriginals bench are a testament to this.
---
Carolin Lehmann is an Associate Editor at Hunker. She's a graduate of the Missouri School of Journalism and has previously written for HuffPost, Seventeen magazine, and a variety of local news outlets. As a studio apartment dweller, she's always on the lookout for new ways to decorate a rental on a budget.
View Work