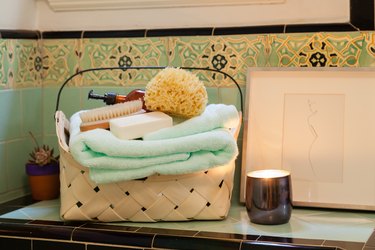 Going to a spa is a splurge that most of us reserve for vacations or special occasions. But did you know that you could recreate a spa-like space in your very own bathroom by simply adding some Zen-inspired elements? Why not treat yourself every day, at home, without spending an arm and a leg. You're worth it.
Here are 10 tips to creating an oasis of your own.
Splurge on Towels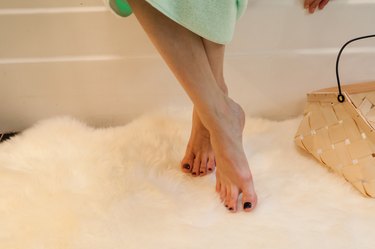 Spas don't skimp on their linens, which further adds to the comfort factor. Splurge on the softest towels you can afford, add a luxurious bath mat, and a cozy robe. You'll be one step closer to blissing out.
Play Music
Slow tempo music is a wonderful natural relaxer. It can quiet the mind and relax your muscles, making you feel soothed while releasing the stress of the day. There are many affordable wireless, waterproof speakers suitable for the bath or shower that can pipe in your favorite tunes.
Utilize Aromatherapy
Scents have the power to impact our bodies through our nervous system and it's believed that aromatherapy can help relieve stress by stimulating the release of certain chemicals in the brain that help people relax. Essential oils like lavender and eucalyptus are popular scents that can relieve stress, relax the body, and promote better sleep. Add a few drops to your bath or invest in an aromatherapy diffuser. You can also place fresh eucalyptus branches in a vase or tie a bundle to your showerhead and the steam will carry the aroma.
Something Living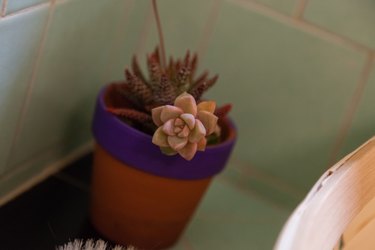 Studies have proven that indoor plants reduce stress levels and boost your mood while freshening the air and eliminating harmful toxins. Air plants are a great choice for the bathroom because they're low maintenance and don't require soil or pots. Plants like aloe vera are also recommended because they can tolerate a lack of fresh air; one or two of these on your tub deck will surely add a sense of peacefulness. If space is limited, a hanging macramé or woven plant holder is an easy way to incorporate something living to your bathroom.
Mix in Some Wood
Wood tones always add a sense of warmth and comfort to every room. Add wood to your bathroom's palette via accessories like a spa tray for your tub, floor mat, or a small stool.
Install Light Dimmers and/or Use Candles
It's hard to unwind in an overly bright space. Spas make perfect use of ambient light, which helps to create a Zen-like atmosphere. Replicate this at home by having an electrician install light dimmers in your bathroom switches. If that's one step too many, simply invest in some votive candles and scatter them around your bathroom – you'll instantly feel more relaxed.
De-Clutter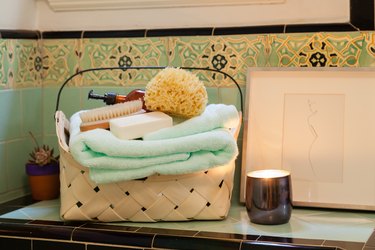 You've heard it before, but it's hard to feel relaxed when you're overwhelmed by a messy space. Clutter floods our minds with excess stimuli (visual, olfactory, tactile), sending the senses into overdrive, which creates stress. If your bathroom counter is littered with lotions, makeup, and brushes, corral everything onto a pretty tray to create order and free up real estate. Instead of draping towels over doors or doorknobs, hang your towels over a decorative ladder or roll them up and store in a large basket on the floor.
Color
Color has a direct affect on mood and energy. Paint your bathroom calming colors like soft blues and greens to achieve a serene spa-like space. Green is the color of peace, calmness, rest, and reflection. It's been shown to have a soothing, relaxing effect on human emotions. Studies have shown that the color blue can slow your heart rate, encourage introspection, concentration, and focus inwards – it's said to be the color of peace and rest.
Bath Brush, Loofah, Sea Sponge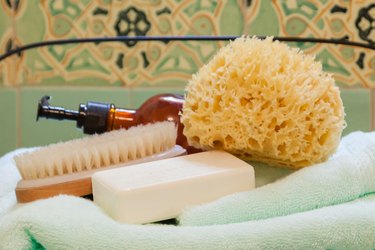 Purchasing a few simple bathroom accessories can go a long way in making your bath feel more like a retreat. Dreamy tools like an organic sea sponge or an exfoliating brush can help turn your daily bath or shower from lackluster to luxe. Or start your day off on the right foot with this living moss shower mat – you'll be surprised about how much you'll enjoy it!
---
Daleet Spector
Daleet has more than fifteen years of experience designing residential and commercial interiors. Daleet is known for her clean lines and relaxed, uncomplicated spaces. Often using iconic modern pieces, she also likes mixing styles and throwing in unexpected elements; all the while remaining true to the integrity of existing architecture. Daleet holds a Master's degree in Interior Architecture from the joint program between UCLA Extension and Cal Poly Pomona. Before that she received a B.A. from the University of Pennsylvania in Design of the Environment and Art History.