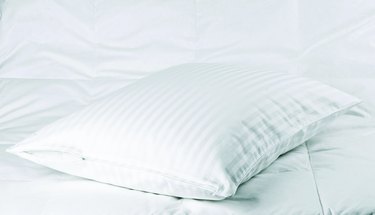 Struggling to catch up on zzz's after Daylight Saving Time? Sleep Week is here to help. From editor-tested bedding and slumber-friendly products to bed cleaning hacks, we've got everything you could ever need to up your sleep game. Happy snoozing.
If I could have everything in my life be oversize, I think I would. I'd happily sit on a colossal, overstuffed couch wearing Mary-Kate Olsen's biggest sunglasses while drinking pinot from a glass that holds a full bottle of wine (this exists).
What is it about larger-than-life items that is so enjoyable?
For me, they tend to recall memories of being a kid and feeling super comfortable and cared for (maybe it's something about everything around you literally being huge when you're a child?). So, naturally, I'm obsessed with having oversize pillows on my bed. When my head hits one of my massive, 31-inch by 40-inch overstuffed down and goose feather pillows, I feel like I'm in a luxurious hotel, wrapped in my own personal cocoon — even if my enormous cat and 6-foot-4-inch boyfriend are also in the bed.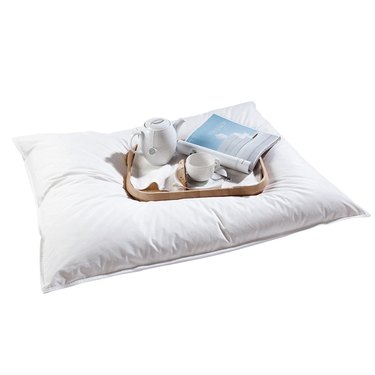 For me, there's also the aesthetic benefit. I'm going to go on record here with a controversial opinion for someone who writes about home decor for a living ...
But, I hate decorative pillows (sorry). They're always hard and/or itchy and never provide the comfort I want them to. And sure, a giant mound of throw pillows looks peak Martha Stewart, but when I'm ready to go to sleep I want to go to sleep, like right now.
Go oversize with your pillows, though, and they give your bed depth and volume without the bulk and clutter.
Don't let anyone tell you otherwise — bigger is always better.
---
Sara Nachlis is a multimedia writer and editor living in Los Angeles by way of Long Beach, CA. Did you know Sublime is from there?
View Work