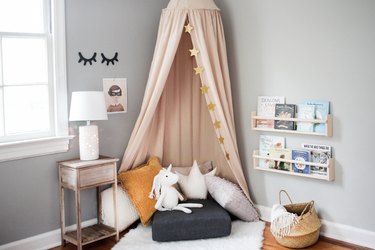 Books are good for the soul, and canopy forts are just plain fun. So we combined both to create a playful yet stylish hideaway that encourages your little ones to ditch the TV and tablets, tuck into a good book, and let their imaginations roam wild and free. Cozy seating, good lighting, and a collection of favorite tales are the essential elements you'll need to assemble an enchanting yet modern space where magical stories and colorful characters can come to life.
Things You'll Need
Hanging canopy tent


Ceiling hook, either screw-in or adhesive


Bookshelves


Hammer and nails

Small area rug or blanket

Floor pillow

Throw pillows

Cozy blanket

Basket

Books

Decorative items (garland, artwork, etc.)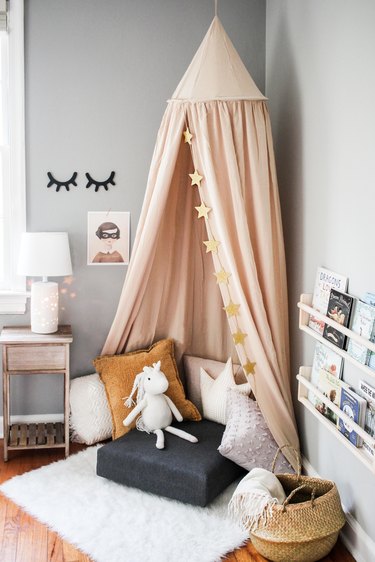 Whether in a nursery, kid's bedroom, or playroom, a small corner of a room makes a great location for a reading nook, as it naturally encloses the space and enhances the illusion of a secret hiding spot. Add a bit of privacy and whimsy by hanging a canopy tent from the ceiling that will both soften and define the space.
Step 1
Attach the canopy to the ceiling using either a standard screw-in hook or an adhesive hook. A screw-in hook is going to be more secure, but if you are a renter or would simply prefer to not put any holes in the ceiling, an adhesive hook will do the trick. Be sure to use a heavy-duty one that can support the weight of your canopy (ours actually came with a ceiling hook that you could either screw in or stick on the ceiling).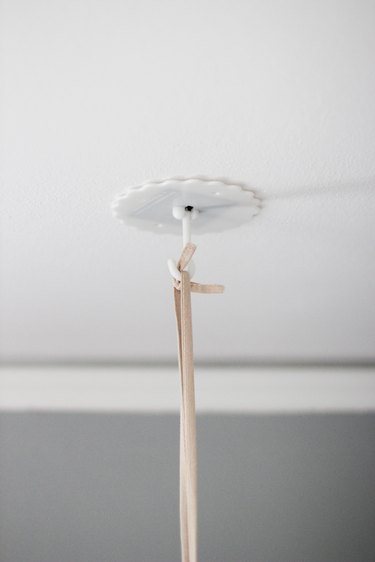 Step 2
Hang bookshelves low on the wall so that your child can easily reach them, and fill them with their favorite books as well as some new titles to discover. We love these Flisat shelves from Ikea for their simple design, easy assembly, and ability to hold lots of books.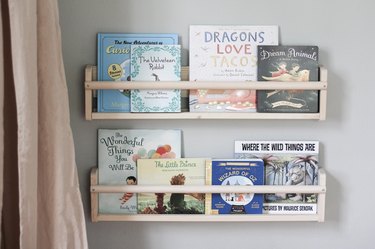 Step 3
Spread a soft rug or blanket inside the canopy, and then place a floor pillow on top for cozy lounging. Pile pillows of various sizes, shapes, and textures on top for extra comfort and visual interest. A few friends of the stuffed animal variety also make great company. (If you'd rather have a chair to get cozy in under your canopy, one of these hanging boho-chic chairs would be perfect.)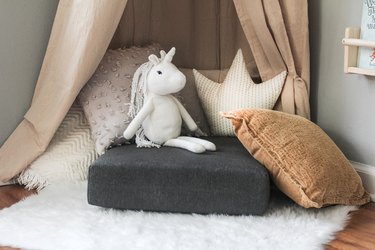 Tip: Keeping the color palette neutral ensures the reading nook will integrate beautifully into your home.
Step 4
Natural light is lovely for daytime reading, but for those after-sunlight hours and bedtime tales, a reading light is key. Selecting a unique piece such as the starry lamp that we used (which casts a fun star pattern on the walls) lends an extra-special feeling to the space. Be sure to place the light within easy reach of the nook.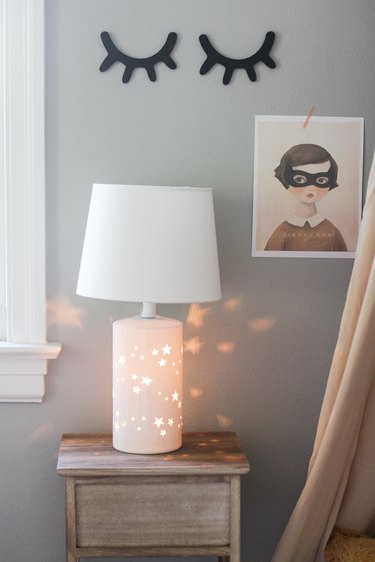 Step 5
A nearby basket filled with extra blankets and pillows ensures warmth and comfort on any cold and dreary days — the perfect kind of day for reading, if you ask us.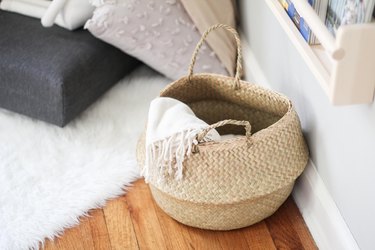 Step 6
Fun details like a sparkling star garland, sleepy eye decals, or dreamy art prints spark the imagination and give off a more curated vibe. Whether it be a woodland forest or an out-of-this-world adventure, this is definitely where you can use your child's interests to really make the space their own.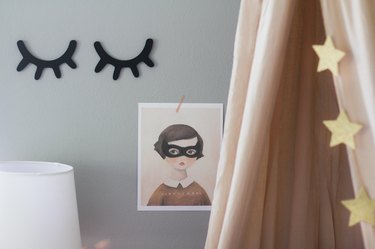 Now you have all the elements in place for your child to get lost in a great book and a make-believe world. Go forth and explore, little ones!