2018 is right around the corner — shocking, we know. We already have the scoop on what paint colors will be trending in the new year thanks to companies ranging from Behr to Glidden releasing their top picks, but what about the rest of the home? We've reached out to ten design professionals for their best guesses. So without further ado, here are 2018's top 10 predicted home decor trends (in no particular order):
1. Warmer Tones
"Before, we were seeing a bunch of blue tones and cooler grays everywhere. Now you can see a lot of warmer tones creeping into everything from wall colors to textiles — rusts, blushes, mustards, et cetera." — Shea McGee of Studio McGee
2. Casual-Traditional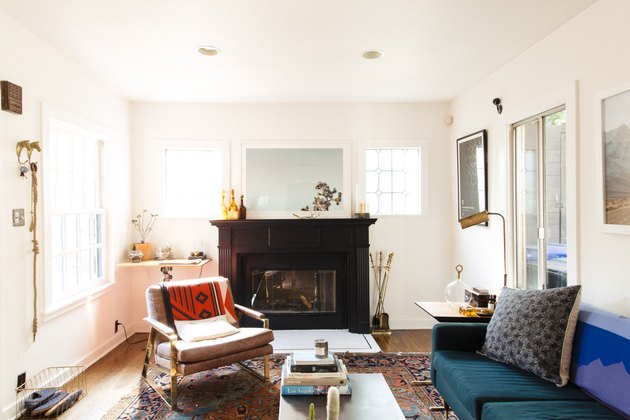 "We have all seen and know what stuffy traditional looks like (think your grandmothers wallpapered living room), but that doesn't mean that all traditional is bad. A more casual and relaxed traditional is something that we are seeing in the trends, and are very much into. A space that is not only filled with the typical traditional pieces (like an English-roll or a wing armchair), but also that is mixed in with some more relaxed and eclectic, casual pieces. It is all about the mixing of styles and the unexpected pieces that make it unique and less formal." — Emily Henderson of Style by Emily Henderson
3. Lavender and Acid Yellows
"We think we'll be seeing some of the lavender and the acid yellow colors, hopefully paired together. We think that the blush pinks (as much as we love them) may need a rest and could easily be swapped out for lavender. The acid yellow feels fresh and it's a nice counterpoint against any neutral." — Melissa Warner Rothblum of Massucco Warner Miller
4. Statement Wall Art
5. "Mini Adult" Kid Rooms
"Throw out the blue and pink. Incorporate modern art, and play with more a grown-up sensibility, but in a fun and non-committal way." — Kara Smith of SFA Design
6. Year-Round Wicker
"Wicker is having a moment! Shoppers are gaga for skirted wicker tables, lampshades, and lighting — especially when animal inspired." — Anna Brockway of Chairish
7. Exoticism
"There's no doubt that we'll continue to see lots of exoticism: full gloss ceilings, architectural furniture, and saturated color palettes. We'll see lots of rich upholstery materials like velvet, mixed with highlights from brass, iron, and gold-plated metal, as well." — Mat Sanders of Consort
8. Resurgence of Icons
"Great design is so accessible now, bringing the spotlight to the forgotten movements of the past. Furniture of the Bauhaus and pieces designed by 1960s Italian designers continue to be very trendy. People realize that simplicity doesn't mean the sacrifice of quality." — Brandon Quattrone of Consort
9. Fun Texture
10. Bold Color
"2018 will be a big year for bold color; using different specialty paint finishes and unexpected colors to create a unique space. We are excited to see richer, deeper, moody hues, and particularly love a deep emerald and eggplant." — Brittany Zwickl of Studio LIFE.STYLE
---
Carolin Lehmann is an Associate Editor at Hunker. She's a graduate of the Missouri School of Journalism and has previously written for HuffPost, Seventeen magazine, and a variety of local news outlets. As a studio apartment dweller, she's always on the lookout for new ways to decorate a rental on a budget.
View Work