Things You'll Need
Bed skirt

Sheets

Coverlet

Comforter or quilt (optional)

Pillows with shams

Throw pillows
Tip
Some people like to tuck the coverlet corners in "hospital corner" fashion. Do this by tucking in one entire side of the coverlet. Untuck the bottom edge near the corner approximately 1 foot, lift the corner of the coverlet up and place it on top of the mattress. Tuck the portion of this corner that hangs down under the mattress and then tuck the remaining flap under the mattress as well. This will create a neat hospital corner. Most people choose between a quilt and a comforter when they desire additional warmth on a bed. These two items are interchangeable and serve the same purpose of decorative warmth. The main difference is style and and appearance, so this choice is based on individual preference.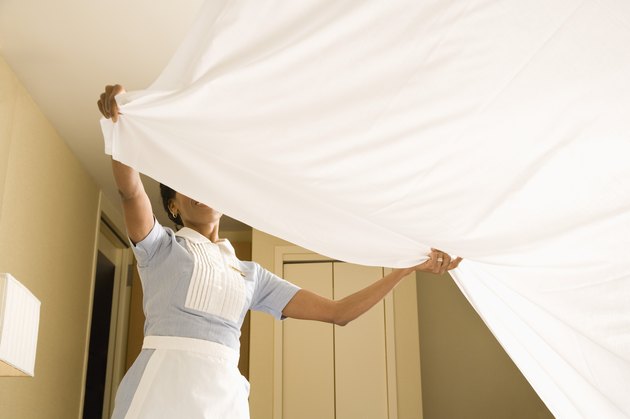 Coverlets help to dress a bed in style. You can use a coverlet to add extra warmth under a comforter or alone with a sheet during warmer weather. Many people add a coverlet to a bed instead of standard blankets because they add more style and flair. Because coverlets cover only the top of the bed, you must layer them with other bedding to finish the ensemble.
Step 1
Fit the bed skirt over the box spring, making sure to pull the sides even and the corners straight. Place the mattress over the box spring with the bed skirt sandwiched between the two.
Step 2
Place the fitted sheet onto the mattress and then add the top sheet over the fitted sheet. Fold down the top edge of the fitted sheet at least 6 inches. Tuck the bottom corners of the fitted sheet in neatly around the mattress corners and along the bottom of the mattress.
Step 3
Spread the coverlet over the top sheet, aligning the top edge of the coverlet with the top folded edge of the top sheet. Tuck the bottom corners of the fitted sheet in neatly around the mattress corners and along the bottom of the mattress in the same fashion as the top sheet.
Step 4
Cover the coverlet with a comforter or a quilt if you desire. During the winter, you may want the added warmth of a comforter or a quilt. During the summer months, you may only need a coverlet for warmth and comfort.
Step 5
Add pillows covered in shams to the top of the bed.
Step 6
Place assorted throw pillows on top of the bed, arranging them in whatever fashion suits you.
---
Kathryn Hatter is a veteran home-school educator, as well as an accomplished gardener, quilter, crocheter, cook, decorator and digital graphics creator. As a regular contributor to Natural News, many of Hatter's Internet publications focus on natural health and parenting. Hatter has also had publication on home improvement websites such as Redbeacon.