Olive trees thrive in the northeast where they can live outside in containers from spring through early fall, but then they must be moved inside. In winter, they cannot survive outside because of low temperatures in the northeast that range from 10 degrees Fahrenheit to minus 25 F. The northeastern region is in USDA Hardiness Zones 4 though 7; olive trees grow outdoors in climate zones 10 and 11. If you prefer, you can keep the trees indoors year-round. According to a New York Times gardening column, olive trees do well in big pots, so you're in luck if you have the indoor space.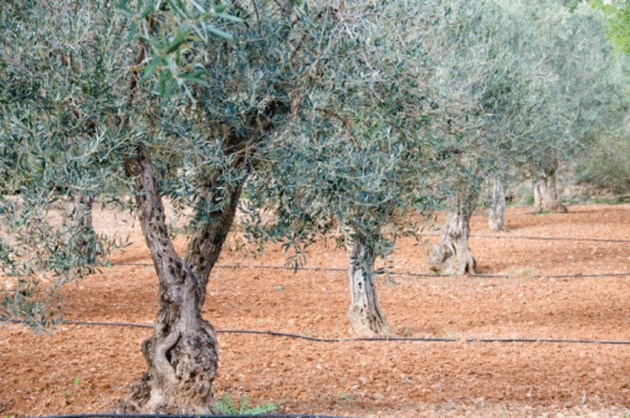 The olive tree can grow up to 50 feet high and 30 feet wide, but it can be kept to 20 feet with regular pruning. Many gardeners like the look of the gnarled branches and gray-green leaves. You can choose from an ornamental olive tree to add beauty to your home, or a fruit-bearing one. Olive trees live hundreds of years.
Olive trees are tough and adaptable but they are native to the Mediterranean, tropical and central Asia and parts of Africa, where winters are mild and there is some humidity. The tree thrives in full sun, whether indoors or out. If it's outside during the warm months, bring the container in for the winter before the first frost. They need well-drained soil with a pH of up to 8.5. Professional growers have found it helpful to fertilize the trees with nitrogen.
The Frantoio olive is self-fertile; it doesn't need another variety to produce fruit. This makes it a good choice for a container tree in the northeast. The tree has darker gray-green leaves than other varieties and its olives can be eaten after curing. Water it regularly and keep it in a sunny location, indoors or out.
The mission olive is more adaptable to the cold than other trees, but it will still need to winter indoors in the northeast. It originated from the California missions where it was used for its oil and olives. Pot this tree in the fall and place it by a south or west-facing window for excellent light.
If you want the look of the olive tree and don't need the fruit, choose the Little Ollie (Olea europaea 'Montra') dwarf olive tree. This ornamental adapts well to pots, where it will grow 4 to 6 feet tall and wide. The tree will need good light indoors, in the northeast during winter.