Tulips are not like other flowers in that their stems continue to grow after they are cut. Do not be surprised if your fresh-cut tulips grow up to an inch in the vase. The vibrant flowers, which are available in colors such as red, yellow, purple, pink and orange, will also grow to conform to the shape of the vase. Display the vase of blooms near a window, where they will grow and flourish in the direct sunlight.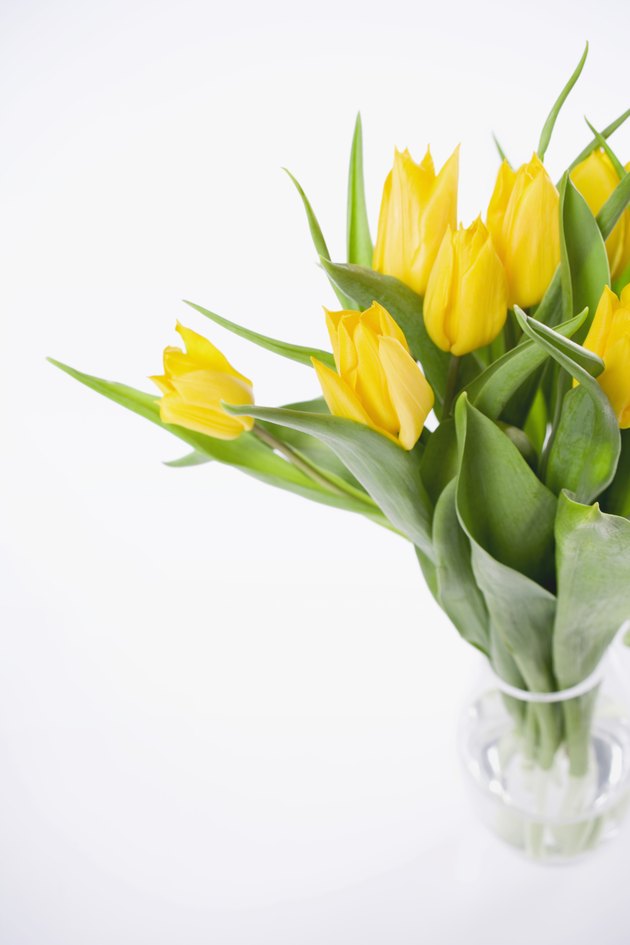 Step 1
Fill 1/4 of a tall, straight glass vase with decorative rocks. Choose natural or colored rocks, depending on the overall look of the room. Pour water into the vase, leaving a 1-inch head space.
Step 2
Mix floral preservative, which is plant food, into the water to prolong the life of the tulips and to encourage their stems to grow.
Step 3
Cut the stems of fresh tulips at a slight angle so they will easily absorb the nutrient-rich water. Trim the stems so that the blooms are at least 1 inch taller than the vase for an eye-catching arrangement.
Step 4
Insert the tulips into the vase. Place the vase on a table or plant stand in front of a window that receives an abundance of sunlight. Add water to the vase daily to maintain the level and keep the flowers fresh.