The passiflora family consists of more than 500 species of passion flower. Passiflora edulis, which is native to South America, is most commonly called the passion fruit. It produces round purple or yellow fruits full of black seeds surrounded by juicy and tasty flesh. Several other species of passion flower produce edible fruits, but they are not as popular as passion fruit. Passion fruit vines are frost-tender, but they grow very large and produce a heavy crop in the right conditions.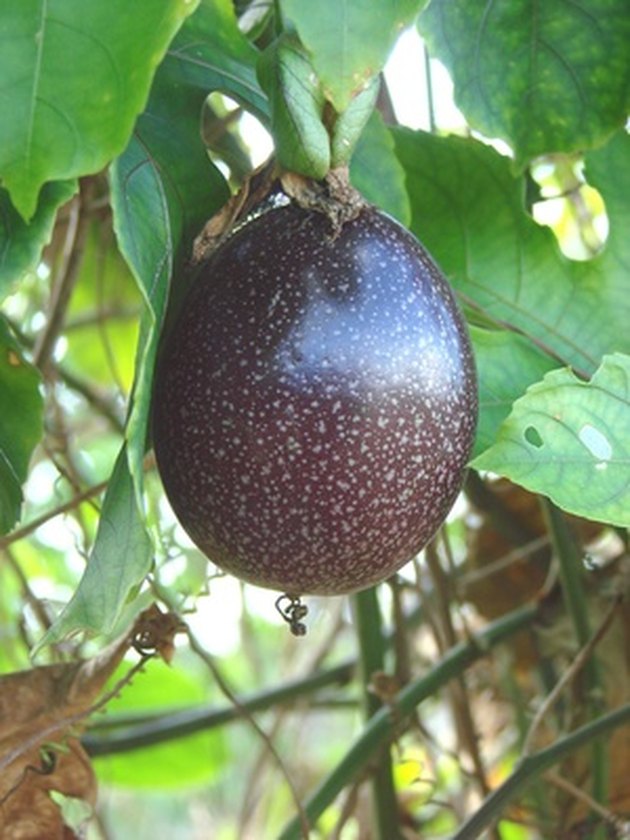 Step 1
Sow passion fruit seeds in peat-based compost in a seed tray or pot. Bury the seeds under an inch of compost and water them thoroughly. Place the container in a warm and bright location and keep the soil moist. Germination may require up to three weeks.
Step 2
Transplant seedlings—when they reach a height of 8 inches—into a larger container or into the garden after danger of frost has passed. Use compost mixed with 30 percent sharp sand or perlite to aid drainage or choose a garden spot with rich and well-drained soil. The depth at which you replant seedlings should equal their depth in the original containers. Water the seedlings well.
Step 3
Provide canes or other support to allow your passion fruit vine to climb, but take care to avoid damaging the roots when inserting canes. Vines will grow rapidly if grown in full sun or high shade and may overwhelm nearby plants if allowed to grow unchecked. Prune growing plants to encourage branching and keep the vine under control.
Step 4
Water passion fruit vines regularly when the surface of the soil starts to dry out, but do not overwater. The vine's roots are vulnerable to rot in water-logged conditions.
Step 5
Fertilize vines once a month during the growing season with a balanced fertilizer enriched with micronutrients. Treat yellowing leaves with a chelated iron foliar spray.