True to its name, the butterfly bush is one of the best landscape plants for attracting monarchs and swallowtails. Butterfly bushes explode in a dynamic array of flower spikes every summer and bloom profusely until frost.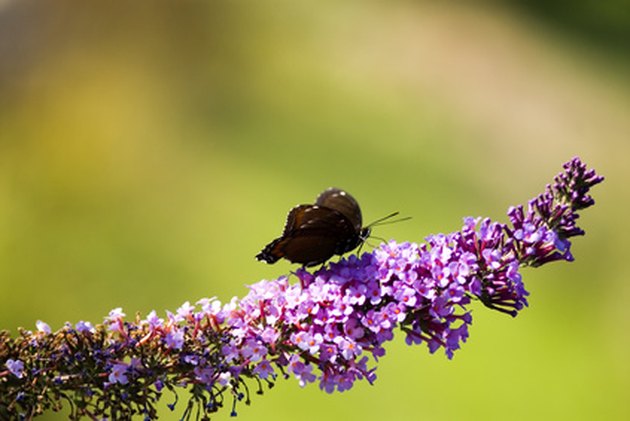 Butterfly bushes grow quickly, producing a majestic, arching form that is a regal addition to any garden. The largest specimens reach a treelike stature of 15 feet tall, though the average butterfly bush is closer to 8 feet. Because of their large size and rampant form, older varieties do best in naturalized settings and not in containers.
Plant breeders have responded to the demand for miniature butterfly bushes by developing varieties that excel in smaller spaces and in containers. One such variety is the "Nanho Blue," a fragrant and carefree plant that tops out at less than 5 feet tall. Colder climates force the plant to die back to the soil level each winter, resulting in an even more compact shrub. These resilient plants also respond well to light pruning during the growing season.
Even a 3- to 5-foot dwarf variety may be too large for some container gardeners. Other small butterfly attracting plants do quite well in containers, including lantana, pentas, zinnias and salvias.