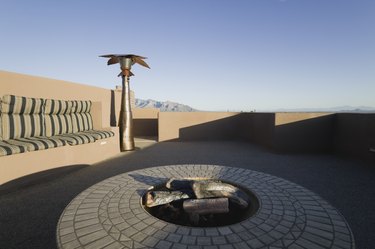 If your back yard has some open space, you can build a propane fire pit. Before you assemble the fire pit, create your own fire pit burner. This can be assembled with some technical proficiency, but is an accomplishable task.
Propane Gas Ring
The propane burner for a fire pit is typically in the shape of either a series of concentric rings with small holes that allow for the fire to exit the metal. Or the burner can be in the shape of a square. To create a round fire pit burner, obtain round metal tubing. If you can find completely closed round metal tubing in varying sizes, that is ideal. You will need one large and one small round metal tube. Make sure that your metal tubing is made from iron to withstand the high temperatures. Check with your local hardware store about the appropriate rating for your metal to ensure that it will not crack while in use.
Appropriate Gas Line
You will also need short, straight metal tubes, to attach the round metal tubes together. Obtain a flexible gas line that will attach to an extension pipe in the middle of the concentric circles of the fire ring. The flexible gas line should be at least 36 inches away from the fire ring. Also, check with the gas company to find out how much gas pressure you will need to maintain 190,000 BTUs of gas. This will affect how thick or thin your flexible pipe will be given its length. Last, obtain a gas cap for the top of the extension pipe, and a gas shut-off valve that sits at the end of the flexible gas line.
Efficiency
First and foremost, create small holes in the gas ring. The holes should be on the bottom of the tubing and should be about 2 inches from one another. Having the holes on the bottom of the tubing prevents the burner from getting clogged with debris. When purchasing your shut-off valve, consider buying a regulator that allows you control over the amount of propane gas that you provide to your burner. This valve will affect your propane use, and ensure that you are not wasting propane by having your burner on a high setting at all times.
---
Graham Beckett is an attorney in Los Angeles who has practiced in California since 2006, providing thoughtful analysis and writing on various legal issues. Additionally, he is an avid surfer, runner, and comedy writer, writing and performing in various sketch shows throughout Los Angeles.