Tip
Stihl supplies a small slotted adjustment screwdriver with every MS 290, and you can also buy one from a dealer.
Always check the oil level in the chain oil tank before using your saw or adjusting the oil lubrication. Only use chain saw oil, which is designed to cling to the running chain.
A full oil tank should last through a full tank of gas and have a small amount remaining when the fuel runs to empty. Refill the oil tank every time you refuel your chain saw.
Warning
Never work on a chain saw while the machine is running.
Always wear safety goggles, gloves, long sleeves, long pants and protective footwear when using a chain saw.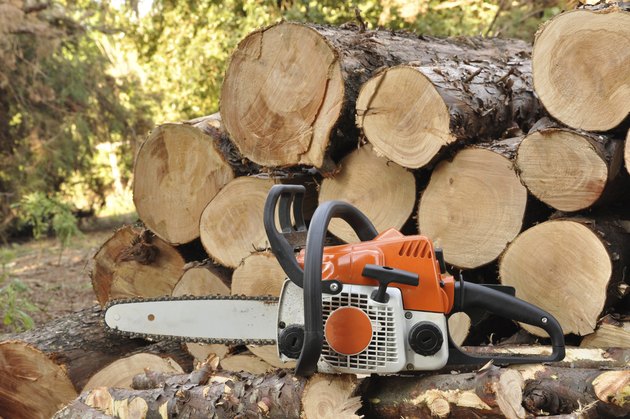 Stihl's MS 290 Farm Boss model was the company's number-one-selling chain saw for several years. The standard model was available with guide bars of 16, 18 or 20 inches, and the saw was equipped with a fully automatic, speed-controlled oil pump. As an option for use with longer guide bars, the unit could be ordered with an adjustable flow oil pump that allowed for simple lubrication adjustments.
Step 1
Flip the chain saw over to expose the underside, while the saw is turned completely off. Adjust the position of the "Ematic" oil flow rate adjustment screw to the "E" marking if it isn't already in that position. This is the oil flow rate preset by the manufacturer.
Step 2
Turn the adjusting screw clockwise, toward the oil drop symbol, to increase the oil feed rate. The saw's chain should receive enough oil to stay thoroughly lubricated and throw off a small amount of oil.
Step 3
Turn the adjusting screw counterclockwise to reduce the oil feed rate. The chain must get enough oil to stay fully lubricated, or the blade and chain can be damaged beyond repair in a short time.
---
Rich Finzer earned his boating license in 1960 and started his writing career in 1969. His writing has appeared in "Northern Breezes," "Southwinds," "Living Aboard," "Good Old Boat," "Latitudes & Attitudes," "Small Craft Advisor," "Life in the Finger Lakes," "BackHome" and "Dollar Stretcher" magazines. His maple syrup has won awards in competition. Rich has a Bachelor of Science in communications from Ithaca College.