Hesston, a company specializing in hay and forage handling agriculture equipment, produces a number of baler models. The balers fall into three basic types producing large square bales, small square bales or round bales. Farm operators choose the equipment based on their operation and forage storage facilities. Each line has its own specifications.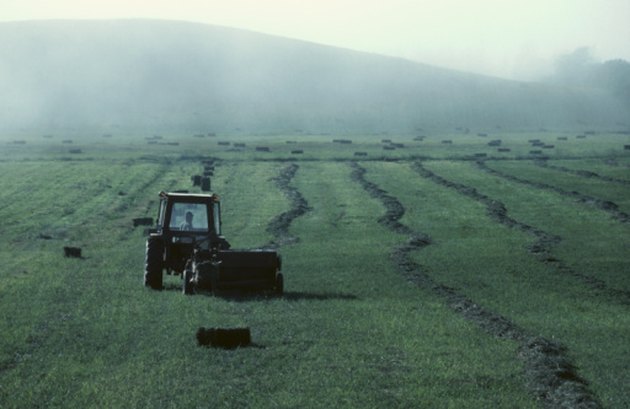 The bales aren't actually square but more of a rectangular cube of compressed hay tied with two or three twines. Models range from the 4550, which can be powered by a 30 horsepower tractor, to the 4690s, which is self-propelled with a 67 horsepower diesel engine. The 4550, 4570 and 4590 produce bales 14 by 18 inches square with the length adjustable from 12 to 52 inches. The 4650 and 4690 produce bales 16 by 18 inches square adjustable from 12 to 52 inches in length. Weight of the bale varies with the quality and moisture content of the hay, but is generally 40 to 90 pounds.
The large square bales produced by the Hesston 4720, 4925, 4760, 4790 or 4910 are also rectangular cubes of compressed hay. Minimum horsepower requirements for even the smaller baler, the 4760, are much higher than the small square baler at 90 horsepower. Bales produced are 46.5 inches wide by 50 inches high and can be made as long as 108 inches. Bale weight varies with the quality of the hay but can be as heavy as one ton. The bale is tied with four or six twines wrapped around the bale before expulsion from the machine.
The Hesston round balers, marketed as the 700 series, roll the hay or forage into a roll before wrapping it with twine for storage. The models 730 and 740 produce bales of between 30 and 52 inches in diameter. He model 745 produces bales between 30 and 62 inches in diameter. Bale width varies 39 inches for the 730 to 46 inches for the 745. Weight of the bales varies with the quality and moisture content of the hay, but will range from about 550 pounds for the 730 to 1,250 pounds for the 745. The model 730 requires a 30 horsepower tractor for operation, while the 740 requires 45 horsepower. All use a 540 rpm pto for baler operational power.