The Bobcat skid-steer loader offers builders, landscapers and farmers an easy-to-operate machine for digging and moving heavy items. With a slew of attachments, the Bobcat expands its capabilities to planting trees, mixing concrete, tilling soil and even stripping and rolling sod. Available for purchase or rent, it's imperative to know the basic operating functions of the Bobcat before you begin your project. Unlike larger heavy equipment, the Bobcat is highly effective in close quarters where it turns on a dime.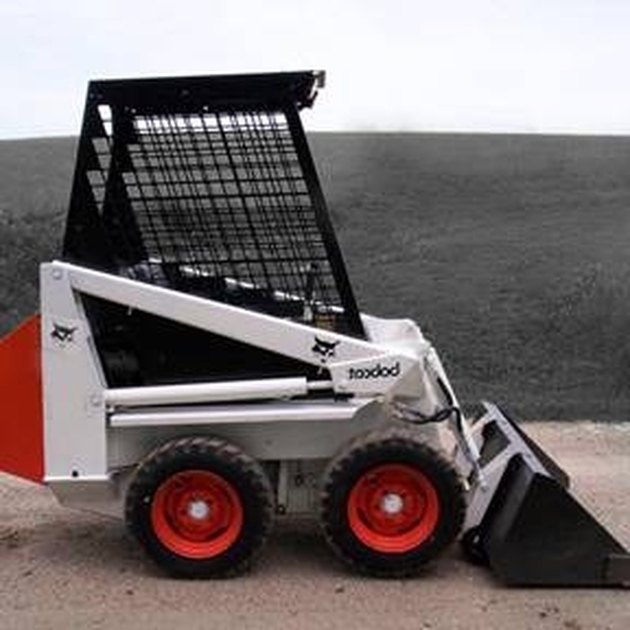 Step 1
Learn the safety features of the machine before turning it on. Many of the newer machines will not start until the safety belt locks or the safety bar is in place. Familiarize yourself with the controls. You will operate the Bobcat with both hands and both feet, each one performing a specific task. The hand controls consist of two sticks and there are two separate foot pedals.
Step 2
Start the machine, keeping your hands and feet free from the controls. Learn the hand controls first. The sticks work independently and together to move the Bobcat forwards and backwards. When you push them forward, the machine moves forward. The farther forward you push the sticks, the faster the Bobcat moves. Experiment with the controls by pushing one stick only, causing the Bobcat to turn sharply.
Step 3
Depress the foot pedals to operate the bucket. Each pedal works on a double-tilt method and you may depress the toe area or the heel area. Press the left toe area to raise the bucket and use your left heel to lower it. The right pedal operates the dumping function of the bucket. Use your right heel to raise the bucket teeth, scooping up sand or dirt. To dump the bucket, press the top portion of the right pedal.
Step 4
Carry a load with the bucket in low position. Remember that the Bobcat is a small machine and heavy loads may offset its weight. Use caution and lift a load only as high as is necessary to complete your task. In addition, travel from one area to another with the bucket in a medium-low position for greater stability, even if it is empty.
Step 5
Operate the Bobcat at the highest RPM possible. The bucket arm and the bucket, itself, function on a hydraulic principal and need full power in order to run effectively. At reduced power, the bucket may not move. This is also true when using optional Bobcat attachments.
Step 6
Load the Bobcat onto a trailer by backing it on--not by driving it forwards. This prevents the backwards tipping of the machine. When you rent a Bobcat from a construction rental store, it will be loaded in the same manner.