Propane tanks may be necessary, but they are not very attractive. A 100-lb. tank measures 48 x 15 x 15 inches and weighs about 76 lbs. Although that's not very large as tanks go, disguising the unsightly steel cylinder still presents a challenge for homeowners. With a little imagination you can find some creative solutions.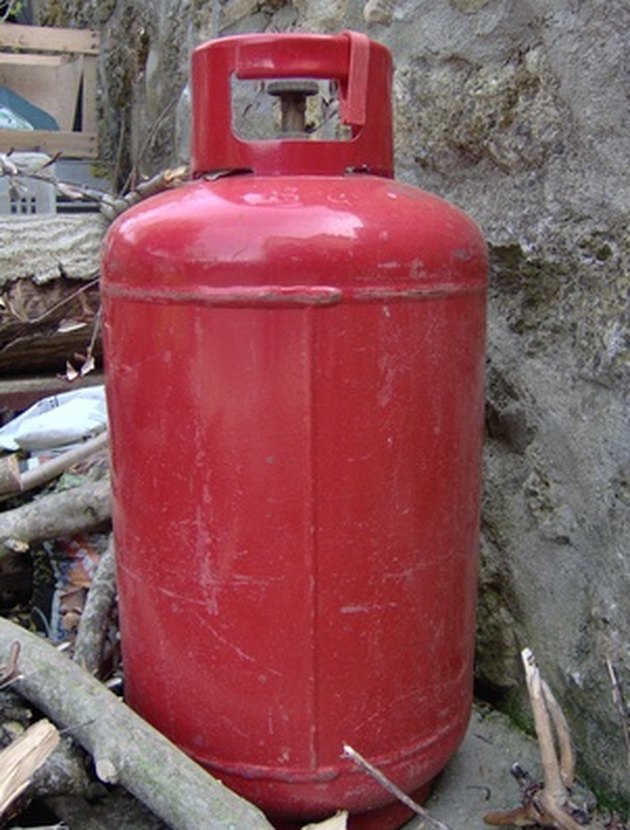 Step 1
Painting your propane tank is the cheapest way to hide it. If it's located next to a building, paint it the same color so it blends into the wall. Change colors to match the wall. For instance, if the wall is brown the first two feet from the ground and cream the rest of the way up, paint the tank the same way. Get really creative and paint it with faux bricks or stone to blend in. Use exterior paints that will weather well and check with your propane dealer for any precautions or rules applicable to your locale.
Step 2
Use container gardening to hide the steel hulk. Use several containers of varied sizes with high and low plants to screen the tank. Bougainvillea, bamboo or Mexican bluebell grow tall and thick in containers. Plant screening plants directly in the ground if you prefer, but leave easy access to the tank for maintenance and filling. Try a combination of plants and paint for even better camouflage. Paint the tank green, brown or a camouflage pattern to blend with the plants.
Step 3
Install a vinyl panel privacy screen. With "boards" at the bottom and lattice work at the top, these handy panels come with stakes and hinges for easy installation. Join several together to get the screen length you need. You can find them at you local home improvement store.
Step 4
Place a miniature pagoda, pergola, or garden house in front of the tank as a focal point for your landscape. Bamboo screening, brick walls, rocks walls, or waterfalls all can hide a propane tank.
Step 5
Construct a turf-covered berm and swale to hide the tank. Situate the tank in the swale or trough and locate the berm or shoulder of earth in front of it. If you are hiding large tanks, this can be an expensive project and may require permits and engineering consultation. In any case, determine if and how it will affect drainage on your property.