Tires are great on your vehicle, but you probably don't want old tires sitting in or around your house. If left outside, tires create a perfect breeding ground for mosquitoes if water stagnates inside them. Rats, mice and other small creatures can also use the tires as shelter. Many states have laws that prevent you from taking tires straight to the city dump, but you can often find ways to either donate or find some other use for your old tires.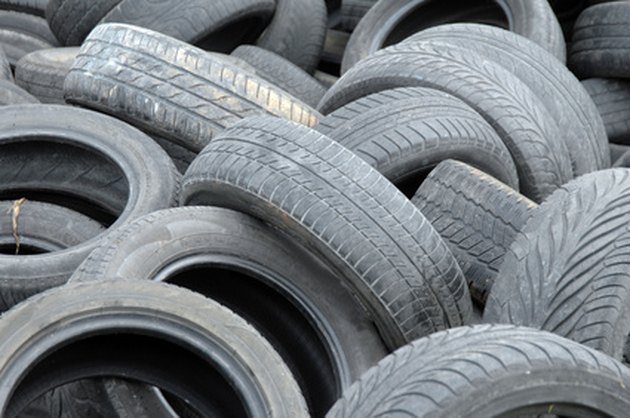 Step 1
Call your local waste management service. Some cities have a service that will pick up your used tires when you call and schedule an appointment. Depending on your city local government, you may also take the tires to a designated location instead of calling for a pickup appointment. Ask about any laws concerning transporting tires, as some states, such as California, only allow you to transport a certain number of tires at one time.
Step 2
Call your local high school's athletic director and ask if you can donate your used tires. Some high school sports, especially football, conduct drills during practice and tires are often used during these drills. High schools often are financially strapped, so donations often are welcomed.
Step 3
Contact your local city council, department of public works or any department that uses rubber for construction to find out if they have tire-donation programs. Some city parks use recycled tires when pouring rubber under park equipment or basketball courts, and some departments of public works recycle tires for construction projects.
Step 4
Use the tires. If you can't seem to get rid of your tires any other way, you can use old tires to build a tire swing or create an obstacle course for your children. They also can be used in your garden to house plants or act as a compost bin.