Things You'll Need
Dish washing soap

Bucket

Sponge

Rags

Club soda

Distilled white vinegar
Tip
Frequent cleaning will keep corrosion off of a stainless steel BBQ
Warning
Do not use abrasive chemicals or scrubbers to clean stainless steel.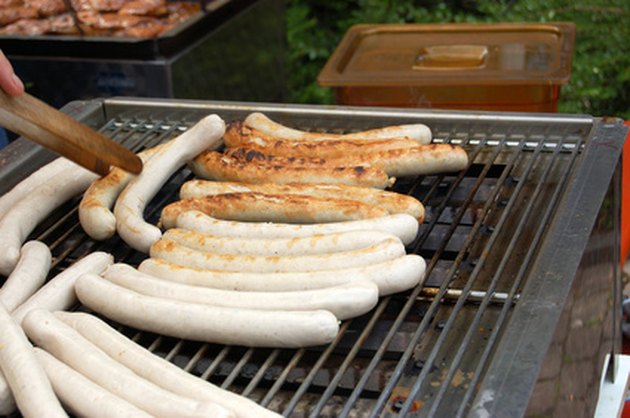 Stainless steel BBQ grills are famously resistant to corrosion. However, when allowed to sit out and weather, or if only sporadically cleaned, they will develop a generalized yellowed appearance. The dull and discolored areas are often mistaken for rust. Removal of this corrosion is a must to keep the BBQ in working order.
Step 1
Add 1/4 cup of dish washing soap with 2 gallons of hot water in a bucket. Scrub the entire grill with a sponge using the hot soapy water. Rinse with hot water and let the unit dry for one to two hours.
Step 2
Wipe any remaining yellowed areas with a rag soaked in club soda. Continue using club soda until the metal has returned to a normal stainless-steel shine. Pull the grill grating and scrub it with club soda as well. This will remove the heat discoloration. Rinse the grill with hot water and let it air dry.
Step 3
Pour a small amount of distilled white vinegar on a rag and wipe the stainless steel surface down. This will bring back the original shine.
---
Claudia Henning began her writing career as a "Lake Sun Leader" columnist in 1989. Her experience includes radio and Web writing, where she specializes in construction and home improvement project methods. She has an Associate of Science degree in physics/math from Del Mar College.