Things You'll Need
4-by-4 cedar or pressure treated post

Wood saw

1-inch wood drill bit

Electric drill

1/2-inch electrical conduit

1/2-inch electrical conduit access pull elbow

1/2-inch electrical conduit clamps

Exterior grade electrical fixture box

Silicone caulk

Galvanized screws

Electric drill screwdriver bit

12/2 with ground UF electrical cable

Exterior lamp

Paint

Paintbrush
Warning
Follow local electrical codes.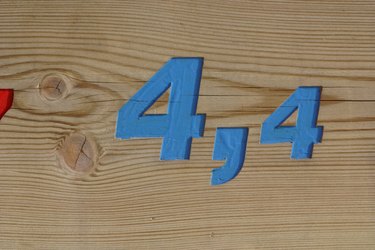 Wooden lamp posts provide an attractive way to dress up a driveway entrance, a walkway, or an outdoor entertainment area. Wood is particularly pleasing to the eye when it's incorporated with other natural materials, such as stone and plantings. By using wood that's resistant to insects, moisture, and decay these lamp posts will be low maintenance and very durable. The base of any lamp mounted to this type of post should be less than 3 1/2 inches wide.
Step 1
Cut the post to be 2 feet longer than the desired height of the light above ground. Posts come in 2-foot increments, so for walkway lights that will be 2 feet above ground, cut the posts to 4 feet in length. For posts that will support a light at 6 feet above ground, buy an 8-foot post and no cutting will be necessary.
Step 2
Drill a 1-inch hole through the post approximately 6 inches down from the top.
Step 3
Remove the hole plug at the back-center of the electrical fixture box. Apply a bead of silicone caulk around the back of the box.
Step 4
Fasten the box to the pole using the galvanized screws. Make sure the hole at the back of the box is directly over the hole in the post.
Step 5
Attach the conduit access pull elbow to the electrical conduit. Use enough conduit to span from the hole behind the electrical fixture box to the bottom of the pole.
Step 6
Feed the wire up through the conduit and through the access pull elbow so it extends approximately 10 inches beyond the end of the access pull elbow.
Step 7
Attach the conduit assembly to the back side of the post using the conduit clamps. Make sure the outlet of the access pull elbow is fitted inside the hole, and the wire extends through the post and into the back side of the electrical fixture box.
Step 8
Apply silicone caulk around the access pull elbow where it fits into the hole.
Step 9
Connect the black wire of the electrical cable to the black wire of the lamp. Connect the cable's white wire to the lamp's white wire. Connect the ground wire from the cable to the ground wire of the lamp, then fasten them to the electrical fixture box's ground screw.
Step 10
Attach the lamp to the electrical fixture box.
Step 11
Paint the fixture box the color of the lamp. Paint the conduit on the back side of the post a color similar to the post's natural color.
Step 12
Dig a hole 2 feet deep and set the post, using a level to make sure it's plumb.
Step 13
Extend the electrical cable underground to the power supply.