Things You'll Need
Hot plate

Extension cord

Metal cake pan or pie plate

Wood chips
Tip
Soak your wood chips in water for one hour before smoking.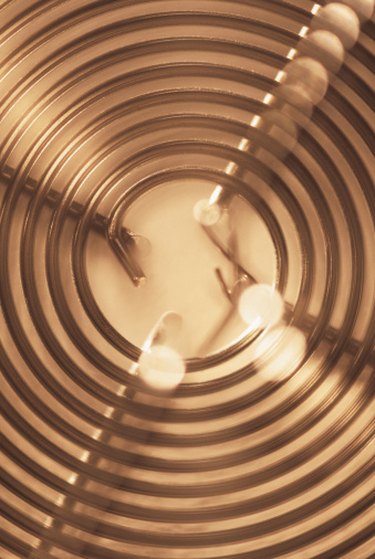 A homemade smoker allows you to smoke your own meat, poultry or fish. One safe way to power your smoker is to use a hot plate, which provides a steady source of low heat that is needed to smoke food. Any type of hot plate works for your smoker project and the setup takes just a few minutes.
Step 1
Open your smoker and place the hot plate on the bottom of the smoker. Thread the cord of your hot plate through the hole in your smoker. If you can thread the cord out the top or side of the smoker and still close the door, you may not need to use a side hole.
Step 2
Attach an extension cord to the prong on your hot plate, unless you're close enough to an outlet that you can reach without one.
Step 3
Fill a metal cake pan or pie plate with soaked wood chips. Set it on the hot plate.
Step 4
Prepare your meat or fish for smoking, using your recipe. Set the food on the rack inside your smoker.
Step 5
Plug in the extension cord and turn on the hot plate. Shut the smoker door or lid. As the hot plate heats the wood chips, your food will begin smoking.
---
A successful website writer since 1998, Elton Dunn has demonstrated experience with technology, information retrieval, usability and user experience, social media, cloud computing, and small business needs. Dunn holds a degree from UCSF and formerly worked as professional chef. Dunn has ghostwritten thousands of blog posts, newsletter articles, website copy, press releases and product descriptions. He specializes in developing informational articles on topics including food, nutrition, fitness, health and pets.